Monthly Archives:
March 2018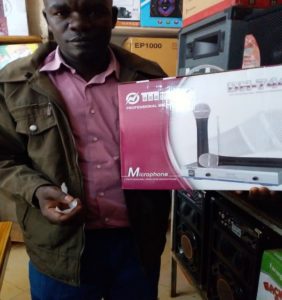 By the Lord's provision through those He has called to partner in the work He is doing through our ministries to the Boda Boda in Kenya, we were able to send funds to Pastor Jared Osongo in Kisii town on Saturday, March 10, 2018 for the purchase of our first PA system. This is a significant next step in equipping these pastors in our 4 ministries across Kenya to take the Gospel to all nations.
I do not know firsthand the excitement they may have felt, but I do know how excited I am to see and to know that we are investing in a harvest of souls, with a far greater return than we could ever achieve on Wall Street.
Pastor Jared said he received the money early Saturday morning and immediately went to the local store to get what was needed for their church services, Boda Boda rallies, and community crusades. Since much of Kenya still does not have electricity in their homes, a generator is needed to power the system.
In Pastor Jared's own words "Today we used the PA system in our church service. Indeed church service today was so touching and moved. May the Lord bless you all abundantly. This PA system will assist us much during our motorcycles Riders rally, crusades, church services and other meetings of expanding God's word. I say thanks and may the Lord open all the heavenly blessings for all our Riders here in Kenya to get the PA system."
Our goal is to soon provide PA systems to the remaining ministries in Nakuru, Nyamira, and Bungoma. On hearing of our first PA system purchase, a dear friend of this ministry with a heart for the Kingdom of God, called saying she was sending $1,000.00 to help with the 2nd system.
These ministries were clearly called into existence by the Lord as they are not the result of planning or any thought we, the leadership of Fellowship Riders, had ever imagined. They are an open door for the Gospel to a group of people who are not respected or valued in their society, the Boda Boda.
Come join with what the Lord has begun by donating for the next PA system, and the next, and the next…