Fellowship Of Motorcycle Ministries
Fellowship Riders' New Association With The Fellowship Of Motorcycle Ministries.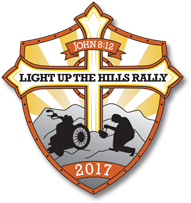 Fellowship of Motorcycle Ministries will serve as a means for the leadership of Christian motorcycle clubs, associations and groups to enhance their ability to serve God's purpose by facilitating communication among ministry leaders regarding their role and responsibilities in the biker community while providing an opportunity to support each other and share ideas for effective witness to lost souls with a kindred spirit.
In order to support this ongoing ministry, our goal is to launch an annual Christian motorcycle rally in the Black Hills of South Dakota, at Sturgis, SD that would rival the famed annual Sturgis Rally that is held each year in August. Aptly named the "Light Up The Hills Rally" our current plan is to hold this event around the first week in June each year, with the first annual rally to be held in 2016 at the earliest. As we see it, the primary purpose of the rally is to provide an opportunity for Christian fellowship, worship, education, collaboration and entertainment. And of course, motorcycle rides through some of God's most beautiful and majestic creation. But unlike the August event, we'll be there to worship the Creator, not His creation! Our prayer is that it will provide a desirable event that guys (and gals!) across the nation and, if the Lord directs, across the globe will want to attend and participate in, as well as provide a non-threatening venue that's comfortable to invite and include folks they may be trying to build a relationship with to open the door to a spiritual conversation. A reasonable analogy in the Cowboy Church world would be inviting a guy who would otherwise never darken the doors of a church to the roping arena and in so doing, begin building a successful relationship that leads to acceptance and salvation.
As we move forward with our planning and implementation of this ministry and annual event, we invite you to join us as a sponsor or give your support through a donation. We have placed our faith in Jesus Christ to lead our effort and we are confident that all who join with us to make this ministry a success will be blessed beyond imagination for your support.
May God's blessing be upon you,
QD Hix
President, Fellowship of Motorcycle Ministries
201 Killdeer Trail
Southlake, Texas 76092
469-569-9946
---
Light Up The Hills Rally (July 6-9, 2017) – Coming Together
The Spirit-led vision to create an opportunity for Christian motorcycle ministries, such as Fellowship Riders, to come together for fellowship, great riding, forums for discussion and exchanging of ideas and testimonies, worship, prayer, renewal, and re-commitment to their mission of impacting their communities and our nation for Jesus is taking form as each day passes.  The Lord's hand has clearly been seen in how details are coming together with the cooperation of the community of Sturgis, the encouragement and support of the ownership of the Buffalo Chip Campground, and the alliance of churches to name but a few.  
In conversations with individuals, governmental agencies, churches, and businesses in Sturgis, it is amazing to discover the hunger and excitement at the idea of hundreds to thousands of Christian motorcyclists coming to "light up" the Black Hills with the radiance of the Son, the Light of the World.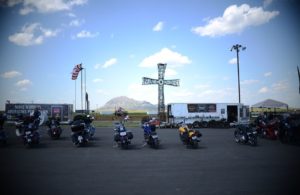 In the time since Fellowship Riders began working with Fellowship of Motorcycle Ministries to bring make this vision a reality, the Lord has given words over this undertaking; 1) a "sacred assembly" calling all Believers who have submitted their motorcycles as "ministry tools" for the Kingdom of God, 2) consecrate the Buffalo Chip Campground for the purposes of Almighty God so that when Bike Week comes a month later that the scent of righteousness will be a stench in Satan's nostrils, 3) that the presence of the Holy Spirit, the Hound of Heaven, remain and be released in power for salvation of the lost during Bike Week, and 4) that over time, the reign of darkness in the Black Hills be broken for the cause of Christ.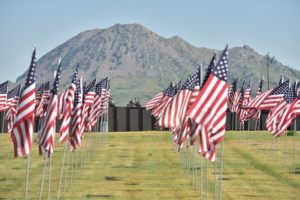 To put substance with words, in addition to individual registrations with details finalized soon, we are needing corporate and individual donations to retain headliner entertainment and offset the cost of services and facilities. Both Fellowship Riders and Fellowship of Motorcycle Ministries are 501(c)3, non-profit organizations and all donations will be used for this rally. Please click on the Donate Online button below to make your tax deductible donation.
It is our prayer and desire to see you in Sturgis for the Light Up The Hills Rally in July 2017.
One Response to Fellowship Of Motorcycle Ministries