About Fellowship Riders

Our Mission
To share the love of Christian fellowship, motorcycles and the local church through safety, excellence and service.
Our Objective
This mission is accomplished by The Fellowship Riders working with and through their local church to provide opportunities for Christian fellowship through frequent, safe, and well-organized group motorcycle rides.
Fellowship Riders Inc is a separate non-profit organization which affiliates with the local church. Once affiliated, the church operates its Fellowship Riders group as one of its own ministries. The ministry of the group is to strengthen each other in faith, Christian bonding and to pursue outreach with church members and non-members alike. This makes for stronger church members and deepens the faith of those involved in the ministry and its outreach efforts.  
To achieve these objectives, Fellowship Riders promotes a Lifestyle form of Evangelism through encouraging devotional inspiration as part of the organized group rides and home bible study groups (small groups).  Additional benefit's are the evangelical impact of Fellowship Riders through our ministry partners such as Prison Fellowship's Angel Tree for Prisoners'Children,  Operation Starting Line  and others that fulfill the work of the local church.
Our Purpose
Fellowship Riders' primary audience is men & women who love to ride motorcycles and who have expressed Christian beliefs.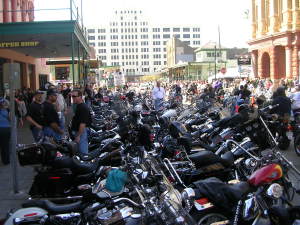 It is a time of renewed interest in motorcycling – among a diverse group – today's biker is not the stereotypical Hollywood bad guy – it's the guy next door. Its mainstream and appealing to a vast number of Baby Boomers from an emotional, economic, performance and fashion standpoint.
A 1998 Motorcycle Industry Council (MIC) survey estimated that 6.5 million motorcycles are currently in use in the United States. That's 2.5 motorcycles for every 100 people in the U.S. and they could be members of your Church!
This same survey indicated the main reason people ride a motorcycle is to relieve tension, gain a sense of freedom, individualism, adventure and escape from day to day demands – exactly the type of action statement one might give going through a "mid life transformation" (crisis).
The common bond motorcyclist share is the sense of adventure & exhilaration that comes from riding. It's a mission field – Fellowship Riders  build  relationship's with other motorcyclists in your Church and those who don't yet believe, by connecting through this common bond. This is what we call, Lifestyle Evangelism. Building a bridge through a creative connection by which the Gospel of Jesus Christ can be presented in a winsome way!
There are people in your church that ride that you know about. And there are also those in your church that ride that you don't know about.
Fellowship Riders give's both of these groups common ground to get together and form a bond that will allow them to serve together for the good of the church and the group.
Additionally, once the group forms, promotion and word of mouth begins to attract others to come ride and join in group and church activities.
Our Statement Of Faith
We believe in one God, the Creator and Ruler of the universe. He has eternally existed in three personalities: the Father, the Son, and the Holy Spirit.
We believe the Bible is God's Word to all men. It was written by human authors under the supernatural guidance of the Holy Spirit. Every word of God is flawless without any mixture of error and a shield to all those who take refuge in it.
We believe in Jesus Christ, the son of God, our Lord. We believe that Jesus Christ died on a Roman cross for our sins, was buried and on the third day rose again. He has been given all authority in heaven and earth. He will come again to judge the living and dead.
We believe that all people are lost sinners and cannot see the kingdom of God except through a new birth. Justification is by grace through faith in Christ alone. He is the one true way and the source of our life and salvation.
We believe in the Great Commission. We will obey our Lord's command to make disciples of all people, baptizing them in the name of the Father, the Son and the Holy Spirit.