Larry Howard Ministries
Fellowship Riders has joined Larry at several Operation Starting Line, (OSL) events in prisons across the country. Larry has been a true friend to Fellowship Riders and we look forward to every event we are able to attend with him and the OSL team. Although Larry was not able to attend out most recent trip to the Louisiana State Penitentiary at Angola he was very instrumental in helping arrange the clearance we needed to join David Middendorf and his team deliver a thousand bibles to the prison on behalf of OSL, Uncaged Outreach Ministries, and Fellowship Riders.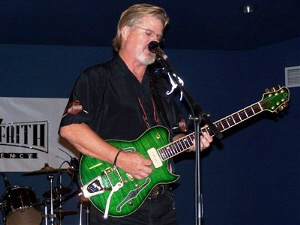 Larry currently is President of "Larry Howard Ministries, Inc" and "Omega Arts, Inc." Omega Arts is a non-profit organization dedicated to reaching out to people through the arts, and is housed in a state of the art music and video facility in Macon, GA.
Omega Arts and its music and video studios are supported by gifts from friends of the ministry.
Larry and his wife Peggy team together to oversee the daily ministry and the 19 years of responsibilities that comes with the calling. It?s a 24 hour a day endeavor with only?THE END? as an acceptable stopping point.
Larry and Peggy are also Pastor?s of Evangelism and Out Reach at Harvest Cathedral a 1400+ member church in Middle Georgia.
When ask how they keep up with such varied ministries Larry replies ?there are 24 hours in everyday we use all 24.?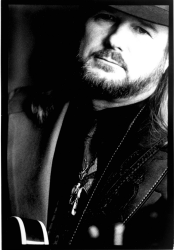 Larry tours regularly internationally playing concerts, teaching, and speaking at seminars. He travels with Chuck Colson's Prison Fellowship and Operation Starting Line, giving performances in a range of State and Federal prison facilities from coast to coast. Jesus said in Matthew 25 they had visited Him when He was in prison.
His most recent project "American Roots" is an outgrowth of his ministries. Larry says of his music, "I'm not trying to awe them with flash; I'm trying to reach them with my heart." As Larry's songs unfold, a seed of hope and knowledge is planted in the mind and heart.
Larry Howard Ministries, through Inside Journal (a prison news paper of Prison Fellowship Ministries) has given away hundreds of tapes to inmates in the United States. He also has given away thousands of tapes at motorcycle rallies and Native American Reservations. Tapes are continuing to find their way to the mission fields of South Africa, Europe, Scandinavia, South and Central America, Russia, and Canada.
The following message is inside the "American Roots" CD liner:
A personal message from Larry…
I wandered thru life for years thinking I had it all together. I achieved success in the world's eyes, but still knew something was missing. I was going in circles in a desert never finding the oasis life had promised. I tried to fill the emptiness inside with money, alcohol, drugs, and other traps Satan threw in front of me, but the hole only stretched bigger and bigger.
In August 1980, I accepted Jesus Christ into my heart and His love and forgiveness filled my emptiness from side to side, top to bottom. I've been drug and alcohol free for 22 years and His love and forgiveness fills me over again every day.
My spirit, mind, and body have truly been set free. This music is a message from me and all those who worked so hard to get it to you. If you want to know more about a personal relationship with Jesus Christ, read these verses in the Bible: John 14:6 Acts 16:31, Romans 10:9, James 1:5, 6
or contact me at:
(478) 742-7695 Office Hours 10am-5pm EST
PO Box 2751 Macon, GA 31203
[email protected]
God Bless You!