Our Story
"And Jabez called on the God of Israel saying, "Oh that You would bless me indeed, and enlarge my territory, that Your hand would be with me, and that You would keep me from evil, that I may not cause pain!" So God granted him what he requested." – 1 Chronicles 4:10
Fellowship Riders is an answer to a Jabez prayer. The idea for this ministry first came to me in February of 2001 after my baptism a year earlier, which marked a turning point in my life. I had been riding for over five years and my buddies weren't on the same walk I was. Surely, there were other people who rode motorcycles in my church. But who were they? How do I meet them? I wasn't looking to start a ministry; I just wanted to find some new friends who wanted to ride.  – Jeff Means – Founder & Former President – Fellowship Riders Inc
Oh, that you would bless me indeed… – The Jabez Gift
A month earlier, my Bible Study group leader gave me the book "The Prayer of Jabez" by Bruce Wilkinson. As I committed myself to pray this prayer everyday, I was mindful to be asking for Gods blessing, not the type of blessing one could get for themselves, but for a God size supernatural blessing. Ironically, my Pastor began teaching a series on the Jabez Prayer a few weeks later and during his sermon I was overcome with a vision for a ministry idea involving motorcycle riders. By the time the service was over, the whole plan was laid out in my head.
And, enlarge my territory.. – The Request to Start the Ministry
The following Monday, I sent my Pastor a letter, laying everything out for this ministry idea. I can still feel the joy and excitement I experienced while writing this note, as well as the absolute conviction that the Holy Spirit was directing my words. It has always amazed me as we go into our fifth year of ministry with Fellowship Riders that very little has changed from the original idea. It definitely was a God thing from the beginning.
That your hand would be with me.. – The Planning Stage
A few volunteers got together to help me, and as a team we designed an informational flier, safety instructions, release forms, and a calendar of rides. Our marketing plan got the word out and a promotional weekend was held at the church. I remember how the staff at Church wanted me to lead a devotional during our first group ride during lunch. Are you kidding me? I don't know enough about the bible to do something like that I thought to myself. But about a week later as I was riding back solo from a biker rally in Nevada, the first ride devotional was given to me as well. It was titled; Jesus Would Have Been A Biker.
And, that you would keep me from evil.. – The First Ride
May 5, 2001 was our first ride. The night before, the Dallas area was hit with heavy rain and tornadoes, with more of the same forecast for the next day. We had 48 people RSVP in advance and even with foul weather that morning, 35 attended the first ride. From this first group, 12 stepped forward to volunteer and form the initial leadership team for Fellowship Riders.
So God granted him what he requested.. – The Miracle of Jabez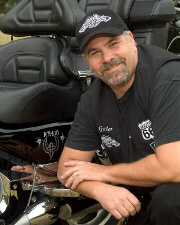 Since that first ride, I have experienced first hand an amazing amount of life change through the Fellowship Riders, none more than myself. The initial idea, as small as a mustard seed, has blossomed into a group of thousands of riders with affiliates in local churches all across America and growing internationally. To date, more than 5,000 Children have been welcomed at Christmas time with Prison Fellowship's Angel Tree program organized by the Fellowship Riders. God has ordained and blessed this ministry by involving so many to do such an incredible amount of work to get us to this point. With a blessing we feel surpasses all understanding, we now share this ministry with you and ask that you share it with others.
In His Grace – Jeff Means