Monthly Archives:
December 2018
Fellowship Riders of the Hill Country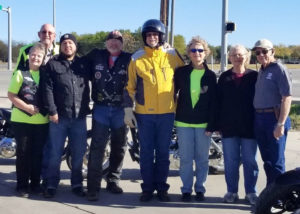 Once again, Fellowship Riders of the Hill Country and our supporting churches, Kendall County Cowboy Church and Wild Ride Ministries get set to participate in Prison Fellowship Angel Tree for children having one or both parents in prison.
Over the last couple of years we have assembled a really talented group of people that thoroughly enjoy the Angel Tree season, as well as being supported by two very generous churches. Feeling pretty confident I asked for twice as many children than ever before knowing we could handle them. When I received our list this year and realized that we were not getting our requested amount, but less than the last couple of years I become somewhat disappointed. Then after soaking it all in I realized I was only being selfish. I prayed that the reason for less this year can be summed up in one of two ways.
First….Could it be that there are a lot more parents at home with their children than before? Could it be that more parents are making better decisions by staying home and keeping the family intact? Continue reading →
When Hurricane Florence impacted the Carolinas with high winds and heavy rains with an estimated 55 fatalities from the storm – among the hardest hit – the city of Wilmington, NC was completely cut-off from the mainland by a strong storm surge and inland flooding caused by the high record-breaking rainfall, exceeding 30 inches in some areas. Lacking utilities and other services for a number of days, conditions for many residents of Wilmington was difficult.
Responding to the needs of these struggling for even basic necessities, Davis Street UMC in Burlington, NC made an appeal in their community for funds and donations of needed items to be taken to a food pantry in Wilmington, Mother Hubbard's Cupboard, that serves the homeless and others in the downtown area. From that effort, fifty 5 gallon buckets filled with recommended basic supplies along with individual hygiene packs were prepared for those in Wilmington.
As the date approached for the delivery of these supplies, Fellowship Riders – Alamance County at Trailhead Church in Burlington, became aware of the opportunity to deploy its newly acquired trailer and partner with Pastor Edgar DeJesus of Davis Street UMC in taking these supplies to Wilmington.
It is a joy to be the hands and feet of Jesus serving those in need, both physically and spiritually, "with your feet fitted with the readiness of the gospel of peace" as it was on the morning we met to deliver the supplies. While waiting on one of our group to arrive, a man came up asking for money, saying he was a painter and did not have enough work to keep him busy. As we talked, he confessed he had suffered from alcohol abuse but was now sober (there was no odor of alcohol) and he said he had accepted Jesus as Lord. The Holy Spirit stirred concerning his deliverance from the demonic attack of Satan on his life through the use of alcohol as we laid hands on him and prayed for his complete release from bondage and for a renewed walk with Jesus.
All in all, it was a special event, a time of blessing and being blessed. May the Lord be praised and exalted.