The Special Gift of Angel Tree
Fellowship Riders of the Hill Country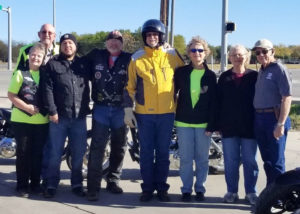 Once again, Fellowship Riders of the Hill Country and our supporting churches, Kendall County Cowboy Church and Wild Ride Ministries get set to participate in Prison Fellowship Angel Tree for children having one or both parents in prison.
Over the last couple of years we have assembled a really talented group of people that thoroughly enjoy the Angel Tree season, as well as being supported by two very generous churches. Feeling pretty confident I asked for twice as many children than ever before knowing we could handle them. When I received our list this year and realized that we were not getting our requested amount, but less than the last couple of years I become somewhat disappointed. Then after soaking it all in I realized I was only being selfish. I prayed that the reason for less this year can be summed up in one of two ways.
First….Could it be that there are a lot more parents at home with their children than before? Could it be that more parents are making better decisions by staying home and keeping the family intact?
Second…Or could it be that more churches have stepped up and taken on the wonderful blessing of Angel Tree?
Then I was led to search out my feelings in the Bible and this is what I found:
In Philippians 2:3, "Do nothing out of selfish ambition or vain conceit. Rather, in humility value others above yourselves." And in 1 Corinthians 13:4-5 we also find, "Love is patient, love is kind. It does not envy, it does not boast, it is not proud. It does not dishonor others, it is not self-seeking, it is not easily angered, it keeps no record of wrongs."
I have been found guilty as charged. My own human weakness of ambition had me angered so much that I was not able to focus on the blessing at hand. Once I wrapped my brain around the fact that we have an awesome blessing to once again deliver to these wonderful children. We will still be delivering the love of Christ to the homes that have been broken by the poor choices and at no fault to the children. The Angel Tree ministry allows us to enter these homes and witness to these families by sharing the love of Christ. I was then able to focus on the task at hand.
We have now delivered to our Angel Tree children and once again God has proven that this is a wonderful blessing and he has also reminded us that it is the delivery team that receives the most precious gift.
A great example of the precious gift received happened on day one when we were joined by a young man and a new rider. He had never been involved in Angel Tree and I believe he came along primarily for the ride and unaware of what he was going to experience.
As we made our stops he participated and was eager to personally hand out the gifts, specifically the ones he had wrapped. We were very unaware of what was really going on until the following Sunday morning at church. During the announcements this young man stood up and began to give his testimony about the previous day's experience. Little did we all know that he had been struggling with his faith and even the thought of going to church had become a burden to him? You see he is the Pastor's son in law, and when he had told his wife how he felt, her response was, "Sounds like you and God need to talk!" He continued with his testimony and revealed that he had been faced with prison time and made a promise to God that he was now beginning to break. As we delivered to our Angel Tree Children he saw the brokenness in the homes and how many parents had lost their own sense of loyalty revealing to him his broken promise from 7 years earlier. You see he had knelt on the floor of a jail cell and promised God that if he got off he would go to church every day and be a better man. So on Sunday in front of God and the congregation he rededicated his life and loyalty to God and re-established his promise.
You see, we delivery presents and the love of Christ to these very broken families. We see the pain and turmoil in their lives and we pray that the memory of our visit brings some hope and the realization that they are loved. As awesome as that sounds, sometimes, just sometimes that is not the best gift. The best gift is the one we receive as Angel Tree volunteers.
Now with another blessed year of delivering to 48 wonderful children behind us, and almost 400 miles traveled around the Hill Country we look back on the hundreds of wonderful memories. The best part for me, is on the last stop every year one of our volunteers comes to me and begs me to keep doing this year after year and my response to him is, "I will keep doing it as long as you keep asking me."
Darran Markham, Director
Fellowship Riders of the Hill Country