Monthly Archives:
June 2019
Let Satan gain nothing…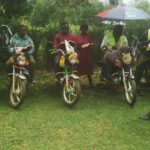 On May 31, we received the tragic news from Pastor Jared Osongo in Kisii, Kenya, the pastor of our 1st Fellowship Riders Kenyan Ministry to the Boda Boda, that one of his church members at Rigena Christian Fellowship and a Boda Boda, was drowned last night along with 2 of his daughters as they were attempting to cross a bridge on the way home from school. The father is the 2nd man from the left in the group picture wearing the blue jacket. Pastor Jared said he hired this man to take him many places and he was a dear friend as well as a valued member of the Boda Boda ministry in his church.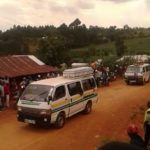 Due to the poverty of most families, they are unable to have insurance for medical or other catastrophic expenses, such as burial costs. Often survivors of these tragedies must sell livestock or property to pay these expenses, which can further plunge them into debt or erode any surplus resources. For widows and children, burial or medical expenses are an especially cruel burden.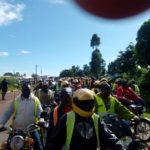 In the past 1-1/2 years of supporting, loving, and sharing with our pastors and their churches, we have, through the donations of caring partners, assisted with medical, housing, burial, clothing, and food costs.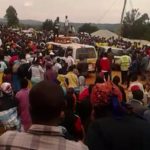 Burial services were held on Saturday, June 8, and it is clear that this loss affected the entire community as seen in the number of people who gathered to show their respect and to mourn the wife and one surviving child.
This is another of those times when your contributions can help lighten the burdens of these struggling families, widows, and children so we prayerfully ask you join with us to lift the hearts of these who suffer. 100% of your donations will go to help these who are mourning this loss and your donations are tax-deductible.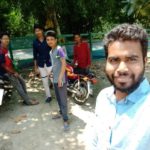 Over a period of months, a young man in Bangladesh, Titus Bilas, had been communicating with us concerning his organizing a motorcycle ministry in his country. A rider, Titus has been focusing on evangelizing young people and children through introductory programs in villages near his home.
As a non-Christian nation; 90% of the population Muslim, 9% Hindu, and the remaining 1% spread among Buddhists and a sprinkling of other beliefs including Catholic; the Gospel of salvation through Jesus Christ is unknown to most of Bangladesh.
A tireless servant of Jesus, Titus has truly been about the work of the Kingdom and has enlisted several friends to assist him as he travels and teaches in villages one or more times a week and it is his vision to expand his efforts to the riders of Bangladesh.
Always looking for opportunities to take the Gospel, Titus organized a viewing of the "Jesus Film" for children in his home during the Easter celebration.
After these months of seeking the Lord's approval, Titus' request to partner with Fellowship Riders in sharing the Gospel with the riders in his community was approved in April and we are in the start-up stages of determining the most efficient ways to support his work.
If we are to be obedient to the command of our Savior to in Matthew 28:19-20 "Therefore go and make disciples of all nations, baptizing them in the name of the Father, and of the Son, and of the Holy Spirit, and teaching them to obey all that I have commanded you", then we must provide the Word of God in the language of the people of Bangladesh, which is our first and ongoing priority. Bibles cost $12.50 each, but the value is incomprehensible and the duration eternal.