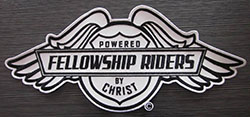 Reflective Vest Patches - New for 2013 is a large reflective vest patch (see attached).  There have been several requests over the years to provide an embroidered patch in lieu of the "carpet" patch.  For cost reasons, we were never able to offer an embroidered patch until locating a volume supplier.  These new patches are now in stock at a price of $35 plus shipping. (Click on image for larger size)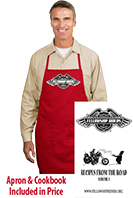 Cook-Off Special - A Fellowship Riders apron and cookbook package is now available on our eStore for the many world-class chefs among us riders.  As the saying goes "Ride. Eat. Repeat".  Available in 2 styles and 3 colors, here is your opportunity to add Fellowship Riders style to your cuisine. (Click on image for larger size)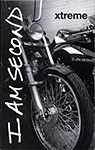 I Am Second Xtreme Tracts - See attached tracts for you to use in your ministry for the cost of shipping.  These not only outline the plan of salvation but encourage new believers to join a Bible Study.  There is an area large enough to put your contact information or attach a card.
The leadership of Fellowship Riders is committed to partnering with your ministries by providing tools and assistance to further the Kingdom of Almighty God and the message of salvation found only in Christ Jesus.  Should you have suggestions how we might improve our support of your ministry, please share them with us.
It is my prayer that the overflowing of God's favor be manifest in your ministry in all of 2013 and beyond in Jesus' mighty name.
Ron Kidwell, President
Fellowship Riders, Inc.
(241) 995-4346
Fellowship Rider Flags
(White on Black or Black on White)
Lg White Flag 11"x15" : $15.00 + shipping
Lg Black Flag 11"x15" : $15.00 + shipping
Sm White Flag 6"x9" : $10.00 + shipping
Sm Black Flag 6"x9" : $10.00 + shipping
H-D style mast and Sissy-Bar style mast : $5.00 ea. + shipping
Also now available!

Official Fellowship Riders HeadBuffs!
$10.00 plus shipping
To order from the additional patch selection, Click on the "Read more".