Fellowship Riders Inc is a 501(c)(3) nonprofit organization founded in 2001 with the mission of assisting and supporting Bible-believing churches who wish to start a motorcycle ministry but are unsure of the benefits, pitfalls, and organization needed for a successful ministry.
In the time since this founding, Fellowship Riders has received hundreds of requests from churches for help in starting motorcycle ministries.  Today, more than 75 churches throughout the United States and Canada have become affiliates of Fellowship Riders and have impacted their riders and their communities for the cause of Christ by providing world-class motorcycling experiences through well planned, well organized, and safe riding opportunities led by Christ Followers, developing many unique and God-led ministries, and bringing people to fill the "God-shaped" piece missing in their lives that is found only in Jesus Christ.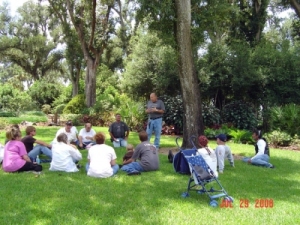 We are not a church; although several of our affiliate churches are the outgrowth of a Biker Bible Study or group of like-minded people who have formed a church focused on reaching the expanding population of motorcycle riders who need a saving relationship with Jesus; but a resource for your church to bring time-tested tools and How-To in "birthing" this ministry.  Guided by the accumulated experience of our affiliates, cooperative activities with other motorcycle ministries, and established relationships with ready-made opportunities through such organizations as Prison Fellowship Angel Tree, Operation Starting Line, Mike Barber Ministries, and others, Fellowship Riders is uniquely positioned to join with your church in developing a motorcycle ministry specifically suited to the Lord's call to serve Him in this segment of your community.
Fellowship Riders, Inc. (FRI) is also partnering with the Fellowship of Motorcycle Ministries (FMM) to sponsor and organize a nation-wide gathering of Christian motorcycle ministries in Sturgis tentatively planned for June 2017.  Named the "Light Up the Hills" rally, this will be a time of worship, fellowship, and the exchange of ideas and success stories – all wrapped around opportunities to ride and enjoy the majesty of God's creation in the Black Hills.
For information about how you can start a motorcycle ministry in your church or how your existing ministry might benefit from becoming an affiliate of Fellowship Riders, please email info@fellowshipriders.org.
---
Fellowship Riders-Lubbock, TX – "That's How We Roll"
T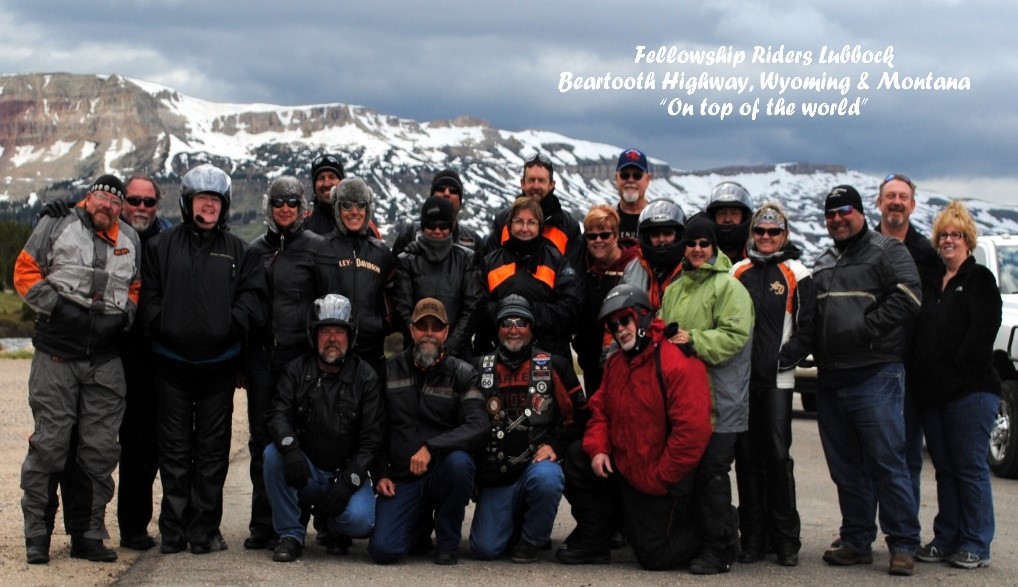 o enjoy the fellowship and joy of traveling together, Fellowship Riders-Lubbock takes several trips each year in addition to many activities in their community. 
On June 8-13 this group of 25 rode over 2,600 miles through Wyoming and Montana while sharing devotionals, divine appointments with those they met along the way, and prayer.  On day three, a couple went down and were injured; however, what the enemy meant for harm became an opportunity for God to show up and show off His sovereignty over all things.  During the 1st few minutes of the crash, the Lord brought a Trauma Doctor, 2 nurses, and many prayer warriors to the scene.  An hour later emergency services arrived to airlift one rider and transport the other to a hospital 1 hour away where he was treated and released.  A state trooper commented that this was the calmest crash scene he had ever responded to and the brother of the injured rider explained it was the presence of the Lord.  Within a few hours the Lord revealed that the riders would be restored and gave peace to continue the ride.  Funds to cover hotel, food, and airfare to return the riders to their home in California were provided by riders and others who learned of their need. Read more…
---
Light Up The Hills Rally (July 6-9, 2017) – Coming Together
The Spirit-led vision to create an opportunity for Christian motorcycle ministries, such as Fellowship Riders, to come together for fellowship, great riding, forums for discussion and exchanging of ideas and testimonies, worship, prayer, renewal, and re-commitment to their mission of impacting their communities and our nation for Jesus is taking form as each day passes.  The Lord's hand has clearly been seen in how details are coming together with the cooperation of the community of Sturgis, the encouragement and support of the ownership of the Buffalo Chip Campground, and the alliance of churches to name but a few.  
In conversations with individuals, governmental agencies, churches, and businesses in Sturgis, it is amazing to discover the hunger and excitement at the idea of hundreds to thousands of Christian motorcyclists coming to "light up" the Black Hills with the radiance of the Son, the Light of the World.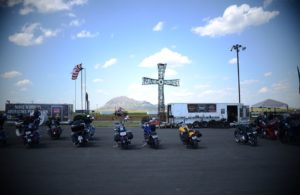 In the time since Fellowship Riders began working with Fellowship of Motorcycle Ministries to bring make this vision a reality, the Lord has given words over this undertaking; 1) a "sacred assembly" calling all Believers who have submitted their motorcycles as "ministry tools" for the Kingdom of God, 2) consecrate the Buffalo Chip Campground for the purposes of Almighty God so that when Bike Week comes a month later that the scent of righteousness will be a stench in Satan's nostrils, 3) that the presence of the Holy Spirit, the Hound of Heaven, remain and be released in power for salvation of the lost during Bike Week, and 4) that over time, the reign of darkness in the Black Hills be broken for the cause of Christ.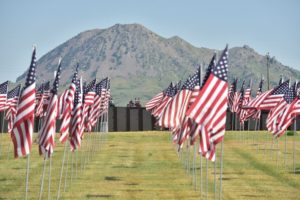 To put substance with words, in addition to individual registrations with details finalized soon, we are needing corporate and individual donations to retain headliner entertainment and offset the cost of services and facilities. Both Fellowship Riders and Fellowship of Motorcycle Ministries are 501(c)3, non-profit organizations and all donations will be used for this rally. Please click on the Donate Online button below to make your tax deductible donation.
It is our prayer and desire to see you in Sturgis for the Light Up The Hills Rally in July 2017.
---
Shine The Light
Matthew 5:16 Let your light shine before men, so that they may see your good works and give glory to your Father in heaven.
Taking this Scripture to heart, Keystone Cruisers for Christ, the Fellowship Riders affiliate at New London Baptist Church in West Grove, PA has been finding several ways to be Salt and Light in and around their community.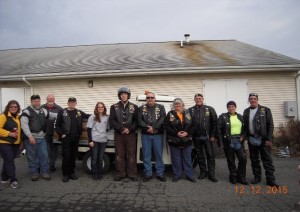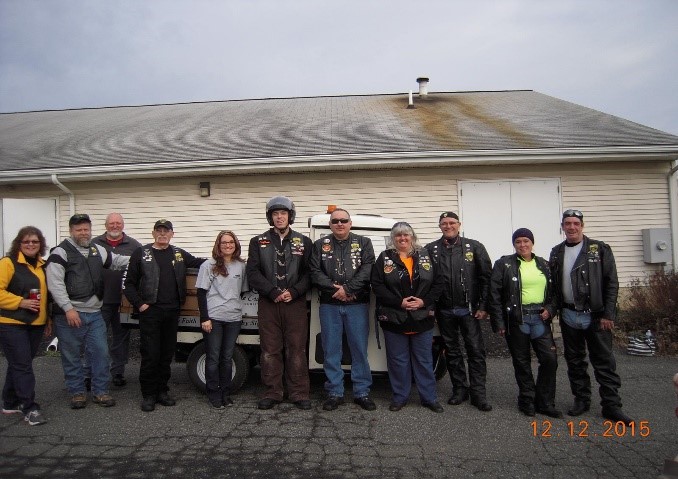 Involving the Youth Department as well as many of the congre-gation who do not ride, they have been a part of a Halloween Parade where, for the 2nd year in a row, they won First Place for Religious Organizations as they passed out tracts and candy. In a nearby town, they participated in a Christmas parade where they handed out 500 bags of candy with a child-centered tract but found that they could have doubled that number – which they intend to do for next year.
To supplement their riders, they have purchased a Cushman trike to carry people, gift/candy bags with Gospel tracts, Angel Tree gifts, and a number of other uses. Especially helpful in local parades as well as gift deliveries for Angel Tree recipients, the trike relieves riders from trying to pass out candy and tracts or haul gifts while safely allowing them to concentrate on riding and communicating with the children and adults.
---
Living Stone Worship Center Relaunch – New Ministry Leadership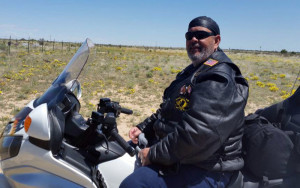 After a period without leadership, Bill and Margaret Melendez have answered the Lord's call to step into that position and renew the ministry at Living Stone Worship Center in Del Rio, TX.   
For any of you wondering where Del Rio is, it is on the Texas/Mexico border surrounded by wide-open spaces along the Rio Grande River. 
If you are looking for a reason to ride, here it is.  Everyone is invited to come join Bill and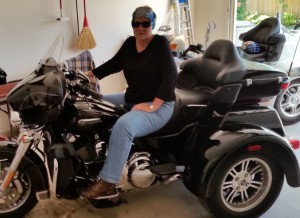 Margaret, Pastor Martin Seca, the members of Living Stone, and all the riders on Sunday, October 11, 2015 @ 11:00AM as this ministry again moves into the community wherever the Lord leads. 
You will not only enjoy the occasion of this relaunch, but have the opportunity to "get on the outside" of some excellent Mexican cuisine, breathe the air scented with Catclaw and Greasewood, stop in Langtry where Judge Roy Bean presided as "The Law West of the Pecos", and rest your legs on the highway pegs just "because you can".
---
Living Stone Worship Center – Lift-Off Complete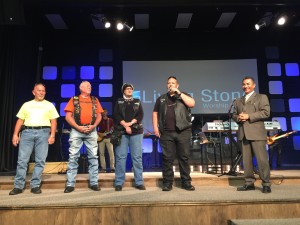 Another amazing time of worship, hearing The Word, and fellowship with our revitalized Fellowship Riders ministry at Living Stone Worship Center in Del Rio, TX.  From left to right are Dudley Kidwell, Ron Kidwell (President – Fellowship Riders), Margaret and Bill Melendez (Ministry Directors), and Pastor Martin Seca as the church welcomed the rebirth of this ministry under new leadership.
I encourage you to pray for these new leaders as they step into their community "Powered by Christ" and that you make a special effort to visit them as you tour the Great State of Texas.  I'm sure they would be glad to accompany you to Wright's Steak House for a taste of Texas beef or to La Hacienda for a little Tex-Mex.  By now I'm sure you know the drill, "Ride, Eat, Repeat".
---
Welcome Our Newest Affiliate : White Horse M/M Roll-Out Weekend
What a special and exciting time it was over the weekend of August 22-23, 2015 as White Horse M/M, our newest affiliate of Greater Johnstown Christian Fellowship, introduced their ministry to the church body during 3 worship services.  The Holy Spirit was present and confirmed His calling on Ed Berringer and his wonderful wife, Sue, as the congregation joined in supporting and the commissioning of this amazing couple.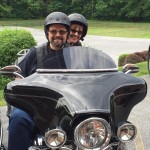 Seven years ago, Ed was involved in a serious motorcycle accident when stopped at a traffic light and hit by a motorist from behind at approximately 40 mph.  Paralyzed, Ed went through all the struggles of a painful recovery, complete life change, stress on marriage and family – a true test of God's faithfulness and victory over Satan's attempt to destroy his life.  Aided by a fellow church member who contributed toward the cost of equipping a motorcycle with hand controls, Ed mounts his bike, stows his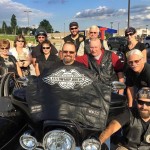 wheelchair in a sidecar, waits as Sue climbs aboard, and off they go to serve their Lord and King, Jesus Messiah.
Please join all of us at Fellowship Riders in praying for this new work of the Lord and for these who have answered His call to ministry.  If you are in the neighborhood, that would be anywhere within 1,400 miles or so of Johnstown, stop in and share the fellowship and friendship of White Horse Motorcycle Ministry found at Greater Johnstown Christian Fellowship.  What Satan meant for evil, God meant for good.
---
Introducing The Covenant Motorcycle Hearse Service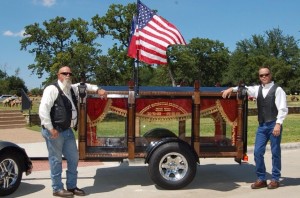 This is an outgrowth one of our affiliates, Hope Fellowship Church – Fellowship Riders in Irving, TX. This is a modestly priced service available by contacting them directly and they travel where needed.
https://www.facebook.com/Covenant-Motorcycle-Hearse-155110691353813/
Call: (972) 358-4501 for bookings.