Fellowship Riders Inc is a 501(c)(3) nonprofit organization founded in 2001 with the mission of assisting and supporting Bible-believing churches who wish to start a Christian motorcycle ministry but are unsure of the benefits, pitfalls, and organization needed for a successful motorcycle ministry.
In the time since this founding, Fellowship Riders has received hundreds of requests from churches for help in starting motorcycle ministries. Today, more than 75 churches throughout the United States and Canada have become affiliates of Fellowship Riders and have impacted their riders and their communities for the cause of Christ by providing world-class motorcycling experiences through well planned, well organized, and safe riding opportunities led by Christ Followers, developing many unique and God-led ministries, and bringing people to fill the "God-shaped" piece missing in their lives that is found only in Jesus Christ.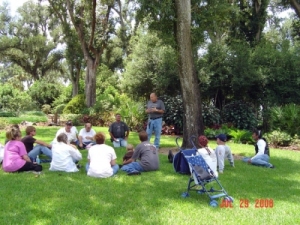 We are not a church; although several of our affiliate churches are the outgrowth of a Biker Bible Study or group of like-minded people who have formed a church focused on reaching the expanding population of motorcycle riders who need a saving relationship with Jesus; but a resource for your church to bring time-tested tools and How-To in "birthing" this ministry. Guided by the accumulated experience of our affiliates, cooperative activities with other motorcycle ministries, and established relationships with ready-made opportunities through such organizations as Prison Fellowship Angel Tree, Operation Starting Line, Mike Barber Ministries, and others, Fellowship Riders is uniquely positioned to join with your church in developing a motorcycle ministry specifically suited to the Lord's call to serve Him in this segment of your community.
Fellowship Riders, Inc. (FRI) is also partnering with the Fellowship of Motorcycle Ministries (FMM) to sponsor and organize a nation-wide gathering of Christian motorcycle ministries in Sturgis tentatively planned for June 2017. Named the "Light Up the Hills" rally, this will be a time of worship, fellowship, and the exchange of ideas and success stories – all wrapped around opportunities to ride and enjoy the majesty of God's creation in the Black Hills.
For information about how you can start a motorcycle ministry in your church or how your existing ministry might benefit from becoming an affiliate of Fellowship Riders, please email [email protected].
---
90 Children, 35 families, 19 cities and over 1000 miles driven.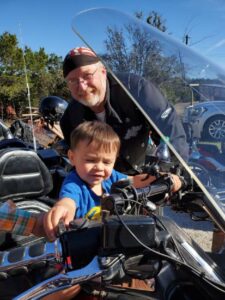 Have you ever questioned God? Have you ever asked, "Why"? Usually this is because something did not go as we had planned, right? Is this not a lack of faith that every Christian faces from time to time? This is our lesson for our Angel Tree delivery for 2019.
You see, the last several years we have been delivering to 35-50 children in the Texas Hill Country and have been blessed with monetary donations over and above the gifts being purchased. The extra money we use for other needs the families may have and children we were not aware of. So this year we were blessed with over 80 children. Read more…
---
Your Word… "My lips pour forth praise, for You teach me Your statutes. My tongue sings of Your word, for all Your commandments are righteous." Psalm 119:171-172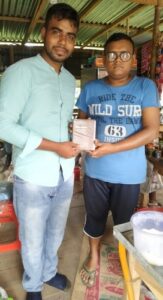 Titus Halder of New Life Fellowship Riders in Bangladesh, who works tirelessly presenting the story of Jesus to children and youth in villages around his home, yet often many miles away, has also received funds for Bibles in September. He has reported how wonderful it is to be able to give Bibles as a new dimension to his ministry as he was not able to do so without our help. He was happy to give a Bible to a shopkeeper in a tea shop, a Muslim school administrator, and a rickshaw puller as he goes where he is led.
Pastor Joshua Mochumbe in Sirare, Kenya also received funds for Bibles in September and gave several to women in his church, Sirare Church of God.
All contributions for Bibles are released on a rotating basis among all the ministries so that all receive funds periodically, typically every 2-3 months; more frequently if possible based on donations. The funds sent will usually purchase 10 Bibles in the people's native language. Read more…
---
Let Satan gain nothing…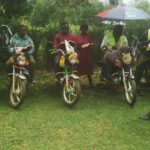 On May 31, we received the tragic news from Pastor Jared Osongo in Kisii, Kenya, the pastor of our 1st Fellowship Riders Kenyan Ministry to the Boda Boda, that one of his church members at Rigena Christian Fellowship and a Boda Boda, was drowned last night along with 2 of his daughters as they were attempting to cross a bridge on the way home from school. The father is the 2nd man from the left in the group picture wearing the blue jacket. Pastor Jared said he hired this man to take him many places and he was a dear friend as well as a valued member of the Boda Boda ministry in his church.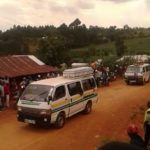 Due to the poverty of most families, they are unable to have insurance for medical or other catastrophic expenses, such as burial costs. Often survivors of these tragedies must sell livestock or property to pay these expenses, which can further plunge them into debt or erode any surplus resources. For widows and children, burial or medical expenses are an especially cruel burden.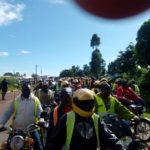 In the past 1-1/2 years of supporting, loving, and sharing with our pastors and their churches, we have, through the donations of caring partners, assisted with medical, housing, burial, clothing, and food costs.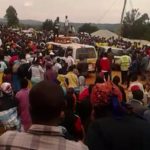 Burial services were held on Saturday, June 8, and it is clear that this loss affected the entire community as seen in the number of people who gathered to show their respect and to mourn the wife and one surviving child.
This is another of those times when your contributions can help lighten the burdens of these struggling families, widows, and children so we prayerfully ask you join with us to lift the hearts of these who suffer. 100% of your donations will go to help these who are mourning this loss and your donations are tax-deductible.
---
Over a period of months, a young man in Bangladesh, Titus Bilas, had been communicating with us concerning his organizing a motorcycle ministry in his country. A rider, Titus has been focusing on evangelizing young people and children through introductory programs in villages near his home.
As a non-Christian nation; 90% of the population Muslim, 9% Hindu, and the remaining 1% spread among Buddhists and a sprinkling of other beliefs including Catholic; the Gospel of salvation through Jesus Christ is unknown to most of Bangladesh.
A tireless servant of Jesus, Titus has truly been about the work of the Kingdom and has enlisted several friends to assist him as he travels and teaches in villages one or more times a week and it is his vision to expand his efforts to the riders of Bangladesh. Read more…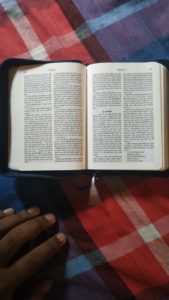 ---
2 Samuel 10:12 Be of good courage, and let us Be courageous for our people, and for the cities of our God, and may the LORD do what seems good to him."
The year 2019 began with many plans and expectations as we moved ahead with registering Fellowship Riders of Kenya as a non-government organization which would enable us to operate freely within all 47 autonomous counties of Kenya without the need to register in each individual county. Additionally, we would receive non-profit status, allowing us tax-exempt status for materials shipped or purchased throughout the country.
To formally begin this process, Pastor Jared Osongo of Nyamarambe, Pastor Davis Omweri of Nyamira, Pastor Samuel Mbuchi of Nakuru, and Pastor Benard Wanjala of Kamukuywa met in Kisii to draft the constitution, complete applications, and elect officers on Sunday, January 13, 2019. Completing their work, each pastor returned home on Tuesday. Read more…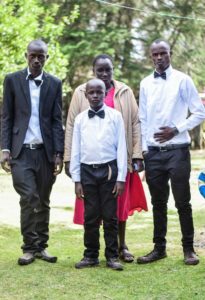 ---
In the final minutes of 2018 and the first minutes of 2019, my wife, Lou Ann, and I had the TV on in our bedroom for no particular reason; it just was on as we were preparing to go to bed after enjoying our time together sitting on our patio and roasting marshmallows. I had earlier in the evening thought we would start the New Year with a time in the Scripture but time had passed quickly. Only glancing at the TV, I realized what I was seeing and hearing – a message perfectly timed as only the Lord can do – an archived message not originally broadcast for welcoming in a new year, yet a message orchestrated for this exact moment by the One who stands above time.
The message was from 2 Kings when Elijah was coming to the end of his ministry and he had already called Elisha as his successor. On their final journey together, "After they had crossed over, Elijah said to Elisha, "Tell me, what can I do for you before I am taken away from you?" "Please, let me inherit a double portion of your spirit," Elisha replied. (2 Kings 9) Continue reading →
---
Fellowship Riders of the Hill Country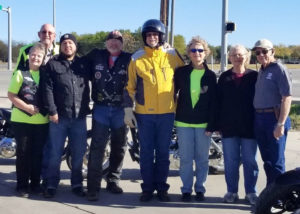 Once again, Fellowship Riders of the Hill Country and our supporting churches, Kendall County Cowboy Church and Wild Ride Ministries get set to participate in Prison Fellowship Angel Tree for children having one or both parents in prison.
Over the last couple of years we have assembled a really talented group of people that thoroughly enjoy the Angel Tree season, as well as being supported by two very generous churches. Feeling pretty confident I asked for twice as many children than ever before knowing we could handle them. When I received our list this year and realized that we were not getting our requested amount, but less than the last couple of years I become somewhat disappointed. Then after soaking it all in I realized I was only being selfish. I prayed that the reason for less this year can be summed up in one of two ways.
First….Could it be that there are a lot more parents at home with their children than before? Could it be that more parents are making better decisions by staying home and keeping the family intact? Continue reading →
---
When Hurricane Florence impacted the Carolinas with high winds and heavy rains with an estimated 55 fatalities from the storm – among the hardest hit – the city of Wilmington, NC was completely cut-off from the mainland by a strong storm surge and inland flooding caused by the high record-breaking rainfall, exceeding 30 inches in some areas. Lacking utilities and other services for a number of days, conditions for many residents of Wilmington was difficult.
Responding to the needs of these struggling for even basic necessities, Davis Street UMC in Burlington, NC made an appeal in their community for funds and donations of needed items to be taken to a food pantry in Wilmington, Mother Hubbard's Cupboard, that serves the homeless and others in the downtown area. From that effort, fifty 5 gallon buckets filled with recommended basic supplies along with individual hygiene packs were prepared for those in Wilmington.
As the date approached for the delivery of these supplies, Fellowship Riders – Alamance County at Trailhead Church in Burlington, became aware of the opportunity to deploy its newly acquired trailer and partner with Pastor Edgar DeJesus of Davis Street UMC in taking these supplies to Wilmington.
It is a joy to be the hands and feet of Jesus serving those in need, both physically and spiritually, "with your feet fitted with the readiness of the gospel of peace" as it was on the morning we met to deliver the supplies. While waiting on one of our group to arrive, a man came up asking for money, saying he was a painter and did not have enough work to keep him busy. As we talked, he confessed he had suffered from alcohol abuse but was now sober (there was no odor of alcohol) and he said he had accepted Jesus as Lord. The Holy Spirit stirred concerning his deliverance from the demonic attack of Satan on his life through the use of alcohol as we laid hands on him and prayed for his complete release from bondage and for a renewed walk with Jesus.
All in all, it was a special event, a time of blessing and being blessed. May the Lord be praised and exalted.
---
"Pure and undefiled religion before our God and Father is this: to care for orphans and widows in their distress, and to keep oneself from being polluted by the world." James 1:27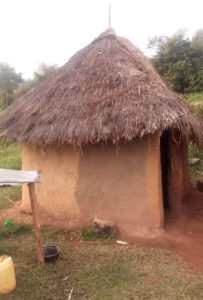 Last week Pastor Jared of Rigena Christian Church in Nyamarambe shared that while he and others from his church were visiting people in their community, they met Mary Nyomenda, a widow whose husband had died two years ago and her daughter is also sick. The church quickly arranged a fund drive to help repair or replace her home. He reported they had raised 7,000Ksh (Kenyan Schillings), approximately $68.00 U.S. Dollars, and members of the church donated posts, trusses, and rafters to build a new house.
"We want to build her a small house of 20 iron sheets. Hope if we get those funds the house will be completed plus paying the funds soon. We have now a lot of rain and in fact, I am fearing how she does." Pastor Jared said they are needing 10,500Ksh or $108.00USD to complete building the house. Continue reading →
---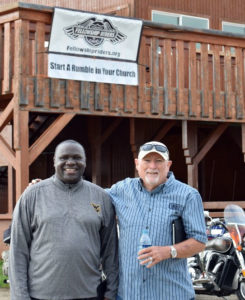 In the whirlwind of the activities leading up to the rally and afterward, it seems the event can now be viewed with a clearer perspective. From the inception of this event to call Christian motorcycle ministries and riders to gather in Sturgis more than 3 years earlier, Fellowship Riders were honored to contribute in a number of ways in supporting and shaping this event as the Lord gave direction.
Asked to serve as Program Director for 2018, I had no prior experience or predetermined direction; which was in retrospect exactly what was needed. 2 days before the first planning meeting, the Lord brought the word "reset". Over the next 6 weeks, the Lord began putting form and direction to His desire to "reset" the content and purpose of the rally for 2018 which became immediately clear when He brought the next and final word of "revival" as the goal of the next Light Up The Hills Rally.
The Lord spoke that we were to come seeking "personal righteousness before a Holy God", to be reminded "for it is written: "Be holy because I am holy." (1 Peter 1:16)
Over the next few months, the Lord opened and closed many doors in the process of bringing speakers with His message for us as individuals, as citizens of this nation, and as the Body of Christ. His selections were Jordan Morris of Together in the Harvest, David Barton of WallBuilders, Bob Smiley, and Pastor Michael Masambu, our dear friend from Alleluia Sanctuary of Praise in Kimilili, Kenya.
Looking back at the rally, there was evidence at every turn that the Lord's presence was in that place, that lives were "reset" on a new path, that the Lord was worshipped and honored, that the truth of Scripture was spoken and heard, and that many left with something of eternal worth.
Ron Kidwell, President
---
Psalm 127:1 Unless the LORD builds the house, those who build it labor in vain.
In learning of the need for tents and chairs; with the dual purpose of sheltering people for our ministry's activities and to generate rental revenue to assist them in becoming self-sufficient; a donor has provided funds for the purchase of our first tent and chairs – plus $200.00 to provide additional Bibles. What a blessing and cause for celebration among us and among our pastors!
With this first tent and chair donation, I challenge everyone reading this to consider adding your support as we continue efforts to provide tents and chairs for the other 3 ministries. As with the Public Address systems, we will provide these new resources to our pastors in the order in which they were accepted as affiliate ministries of Fellowship Riders; Rigena Christian Church in Nyamarambe being the first recipient. It is our prayer that we will be able to quickly follow with tents and chairs for Powered by Christ Ministries in Nakuru, Gesonso Christian Church in Nyamira, and lastly Alleluia Sanctuary of Praise in Kimilili.
---
Authorities
Romans 13:1 "Everyone must submit himself to the governing authorities, for there is no authority except that which is from God. The authorities that exist have been appointed by God."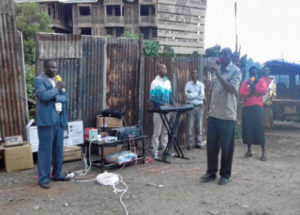 As our work among the Boda Boda progresses, it is important we comply with the authorities and regulations governing our ministries if we are to be true Ambassadors for Christ. To this end, we have successfully registered 3 of our ministries as CBOs (Community Based Organizations) in the counties of their home churches; Nakuru and Kisii. This step was taken to provide recognition among the local authorities and as another step toward establishing Fellowship Riders as a recognized non-profit in the nation of Kenya. That "next step" of registering in Nairobi as a faith-based non-profit organization is a priority as we strengthen the foundation of this Kingdom work.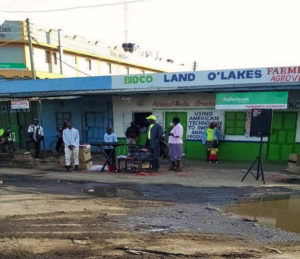 Not waiting on the regulatory activities to be completed, our pastors are continuing to share the Gospel with the Boda Boda and their communities. As we had envisioned, our providing Public Address systems to our pastors has strengthened their churches and their outreach efforts.
Pastor Samuel Mbuchi of Powered by Christ Ministry in Nakuru has been taking his PA system to several Boda Boda stations and preaching the Gospel to both the Boda Boda and to all the clients who go in and out from these key transportation locations.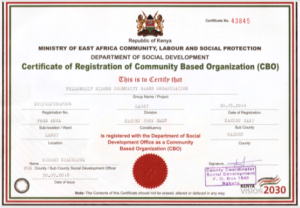 These efforts to take salvation to Kenya through the Boda Boda would not be possible without those of you who have contributed to the work of these pastors and their congregations. There are many things yet to be done as we follow the Lord and your donations are "seed for the harvest." We thank you for investing in the Kingdom of God on the Earth and ask you prayerfully consider continuing to enlarge the Body of Christ in Kenya.
Psalm 90:16-17 Let your work be shown to your servants and your glorious power to their children. Let the favor of the Lord our God be upon us, and establish the work of our hands upon us; yes, establish the work of our hands!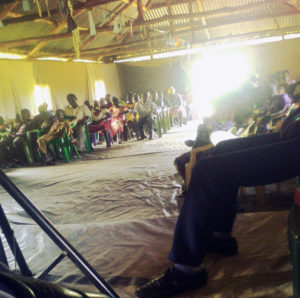 In the time since the 1st Annual Kenyan Leadership Conference in Nakuru, the Lord has shown Himself faithful and powerful among each of our ministries in Nyamarambe, Nakuru, Nyamira, and Bungoma County (Kimilili). Through the investment of several people into this amazing work of the Lord, we have been able to purchase 2 Public Address systems; one for Rigena Christian Church in Nyamarambe and one for Powered by Christ Ministries in Nakuru.
These PA systems have increased the impact of our ministries into the community by facilitating larger events and strengthening our affiliated churches. Church attendance and membership have grown as well as the number of people reached at every gathering with many testimonies of salvation and deliverance among the people. It has been reported that the atmosphere in these communities is changing, that there is a lingering presence of the Lord. To Him be the Glory. Continue reading →
---
Isaiah 34:1 Draw near, O nations, to hear, and give attention, O peoples! Let the earth hear, and all that fills it; the world, and all that comes from it.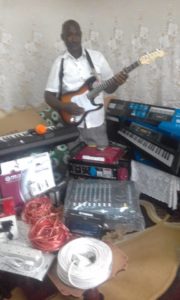 Since May 12 of 2017 when I received the first email from Pastor Jared Osongo requesting his church become an affiliate ministry of Fellowship Riders, the Lord has moved quickly to call other 3 other pastors to focus on sharing the Gospel with the rider community in Kenya, the Boda Boda. In the past 11 months, we have seen and heard testimonies of salvation, healings, and deliverance among this group of people often overlooked or viewed with suspicion and fear as they are a rough group, often engaged in criminal activity. But God…
God has a different plan for the Boda Boda. He sees these, who need His salvation and freedom from the bondage of sin, as an army He can equip with His righteousness to go throughout their land taking the Good News of Jesus.
By providing PA systems to the 4 pastors working among the Boda Boda, it will be possible to expand the reach of these ministries into the community. Our 2nd PA system was purchased last week for Pastor Samuel Mbuchi in Nakuru and he is planning his first crusade soon. Read more…
---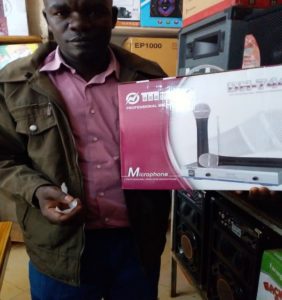 By the Lord's provision through those He has called to partner in the work He is doing through our ministries to the Boda Boda in Kenya, we were able to send funds to Pastor Jared Osongo in Kisii town on Saturday, March 10, 2018, for the purchase of our first PA system. This is a significant next step in equipping these pastors in our 4 ministries across Kenya to take the Gospel to all nations.
I do not know firsthand the excitement they may have felt, but I do know how excited I am to see and to know that we are investing in a harvest of souls, with a far greater return than we could ever achieve on Wall Street.
Pastor Jared said he received the money early Saturday morning and immediately went to the local store to get what was needed for their church services, Boda Boda rallies, and community crusades. Since much of Kenya still does not have electricity in their homes, a generator is needed to power the system. Read more…
---
1st Kenyan Fellowship Riders Leadership Conference – Nakuru, Kenya: Psalm 90:17 Let the favor of the Lord our God be upon us, and establish the work of our hands upon us; yes, establish the work of our hands!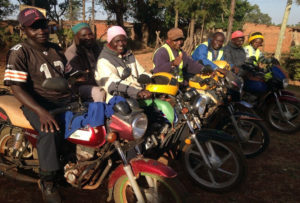 The Lord has brought our 4th ministry in Bungoma County and, together with the priceless assistance of Pastor Michael Kisabuli Masambu in less than a week, organized the 1st Kenyan Fellowship Riders Leadership Conference.
Pastors and leaders of our 4 ministries to the Boda Boda convened Monday morning, Feb. 12 at 7:30AM after those from Bungoma had departed at 12:00AM that morning, others from Nyamira and Kisii at 2:30AM, Pastor Michael from Kimilli, and the host ministry in Nakuru had arrived at the hotel. With a full day of fellowship, teaching, prayer, and planning, the day filled with the Spirit of the Living God concluded around 9PM.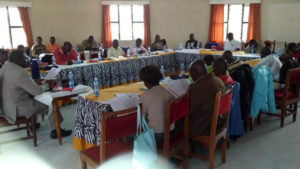 Led by Pastor Michael, these 28 leaders reviewed the God-breathed vision leading to the founding of Fellowship Riders, Code of Conduct, evangelism methods, developed organization and planning goals, and heard from the Scripture concerning their living a life that honors Jesus as Lord, separating themselves from the culture of lawlessness and darkness around them, reflecting the Light of Jesus at all times.
The Boda Boda do not have a good reputation, are often very poor, have sometimes organized into gangs dealing in drugs and prostitution, are increasingly engaged in political violence, and have in some ways become "lepers" to the community. But it is these whom the Lord has chosen to do "a new thing". Because of their movement throughout wide areas, they are "clay in the Potter's hand" to be made into a vehicle for the spread of the Good News of salvation through all the land. Continue reading →
---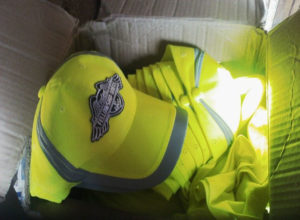 GOOD SOIL — Matthew 13:8 "Still other seed fell on good soil, where it produced a crop—a hundred, sixty or thirty times what was sown. 9 Whoever has ears, let them hear."
The reports from our 3 pastors in Kenya; Pastor Jared in Kisii, Pastor Samuel in Nakuru, and Pastor Davis in Nyamira; are humbling and astounding. These dear pastors are continually telling of the move of the Holy Spirit among their Boda Boda and among the entire community as they have focused on taking the Gospel to this group of people.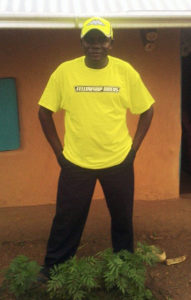 To help create an identity among the Boda Boda who have accepted the Lord as their savior and to encourage them in the Lord, we recently sent 35 t-shirts and caps, split among each ministry. Although not nearly enough for every rider, it is our hope that through the help of all who want to share in this ministry, we will soon be able to send enough for all.
"Riders were so excited when I showed them the t-shirts and they hope they will use them in the coming rally"… Pastor Jared.
We ask you pray often for these and that you will contribute to this work of the Lord by making a tax-deductible donation to support the spread of the Gospel in Kenya by clicking on the Donate button. It is our hope that these ministries, who have so little, will "lack for no good thing" and that the Gospel not be restrained for financial reasons. You, your church, your family, your Bible Study, and your employer can help.
By your giving, you will have a part in the testimonies of these you have touched halfway around the world for the cause of Christ.
---
Kenya On Fire for the Lord!!!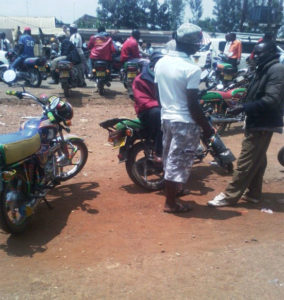 Rejoice! Again I say, Rejoice! In the months since May 2016 when first asked by Pastor Jared Omweri if Rigena Christian Church could become a Fellowship Riders affiliate, the Lord has been moving quickly and powerfully among the riders in Nyamarambe. The riders, using their motorcycles to carry passengers and cargo, gather in "stations" where people can hire them. It is these stations where Pastor Jared has been meeting riders and inviting them to the rallies (group rides) and Bible Studies he is conducting.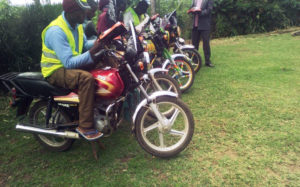 After the 1st rally, several riders asked for Bibles in their language of Kisii, which we were able to provide (riders following along with Pastor Jared in their new Bibles), but more are needed as this ministry is growing rapidly.
Pastor Jared recently reported that at the next rally, his initial group of 8 riders joined with another station for a total of 20 riders participating, and that 3 riders accepted Jesus as Savior. Two other stations have heard of the rallies and have asked Pastor Jared to come preach to them and for them to be included in future rallies. Read more…
---
Lift up your eyes, and see that the fields are white for harvest…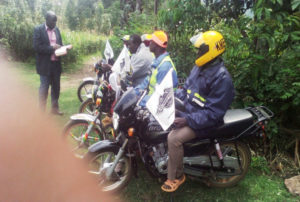 Seeing with "spiritual eyes", Rigena Christian Church sponsored its first group ride for the "Boda Boda"; riders who use their motorcycles to transport passengers and cargo; this past Saturday, September 2. They rode a distance of 50Km and enjoyed a time of fellowship, teaching, and dining together.
Pastor Jared has said that they have 3 more riders who have asked to be included in the next "rally" and the church will be conducting a Bible Study for riders every other Saturday with a ride on alternating Saturdays along with a Youth Camp in December that will include activities for riders in this community-wide event.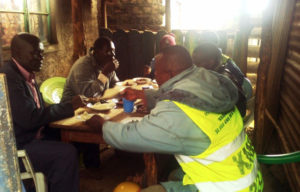 From this first gathering, Pastor Jared said that the riders had requested Bibles in Kisii, their native language, as none of them owned their own Bibles. We will be sending money to purchase Bibles in Kisii town, the nearest large city, at a cost of $13.00 each.
Pastor Jared has also asked we send more Fellowship Riders patches, caps, flags, decals, Bike Blessing stickers, and any other materials to help bless these who come and to create a community of riders "Powered by Christ". How refreshing and exciting it is to see how the Lord is moving among these, our new Brothers and Sisters.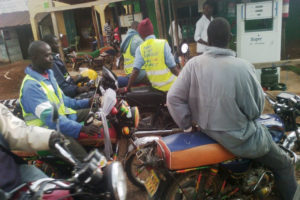 As a friend from Nigeria said, "It is hard to pray and fast in America. In Nigeria, not so much."
For these whom the Lord has put in our path with little in worldly possessions, yet rich in the things of God, please consider blessing them by clicking Donate Online. One definition of blessing is "God's provision that allows or helps you do something".
Let's buy stock in the Kingdom of Heaven by investing in things Eternal.
---
Rejoice – Shipment Received
After many prayers and more than a few anxious days, our package of materials has arrived in Nyamarambe, Kenya for our first African Fellowship Riders affiliate, Rigena Christian Church.
As we knew from the beginning, owning a motorcycle in Kenya is not like owning a motorcycle in America. These differences are mainly economic as motorcycles in many other countries are used for primary transportation as well as business; whereas the majority of riders in America own a motorcycle for recreational riding.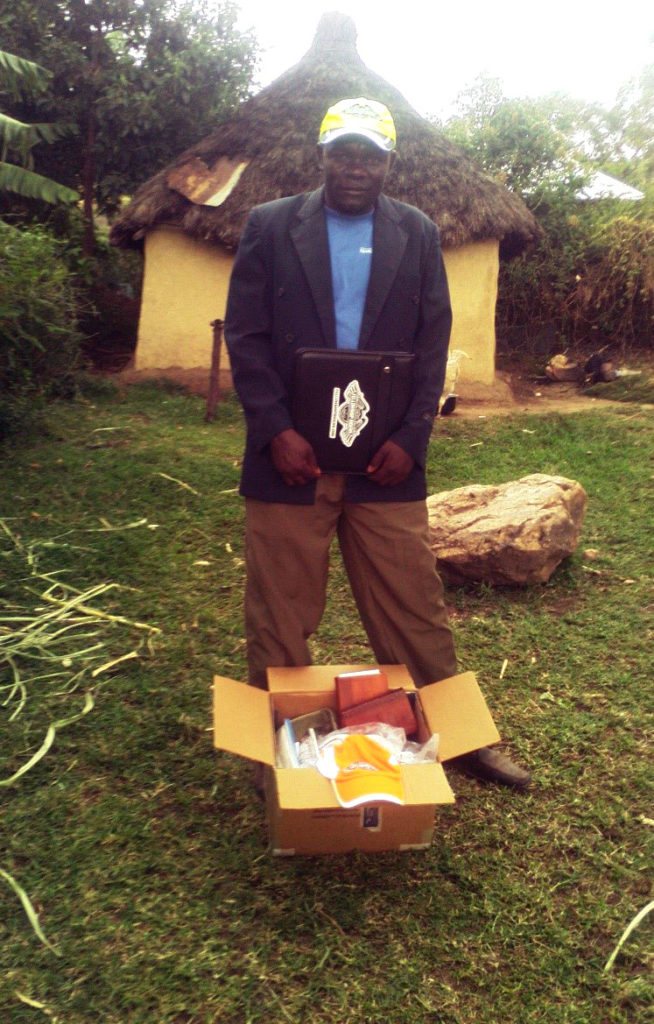 For this reason, we were concerned how well our Riders Tool Kit and other materials would adapt to this new culture of riders and have been supplementing that information with how to sponsor a Bike Blessing and other rider events such as a "Slow Race" to engage riders. Having rides to restaurants or points of interest are virtually impossible due to cost of petrol and food, so we are working to assist with activities that would appeal to riders while not placing a financial burden on them or the church.
Pastor Jared, a former rider now saving to purchase his own bike, heard the Lord's call to develop a ministry focused on this group and he has reported that "several of our members are anxiously waiting to begin engaging riders in our community" for the cause of Christ as they review the Riders Tool Kit, ministry best-practices, MSF Guide to Group Riding, patches, Biker Blessing Stickers, and other materials. In the most recent news, Pastor Jared said "Glory to God! I have received now five riders who are willing to join our teaching and preaching to spread God's word in the whole world through motorcycles."
How true are the words of the Apostle Paul when he said in 1 Corinthians 12:13 "For in one Spirit we were all baptized into one body, whether Jews or Greeks, slave or free, and we were all given one Spirit to drink."
For anyone wishing to partner with us in supporting this work of the Kingdom, you may donate by clicking Donate Online as we join with what the Lord is doing in Nyamarambe, Kenya.
---
Kendall County Cowboy Church – Fellowship Riders of the Hill Country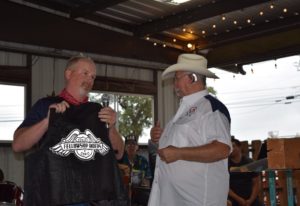 As the Lord leads us along His path, sometimes He calls us to leave where we are and to find where He wants us to put down new roots. We all know from our own life experiences, that some things are for but a season where others are for a lifetime. That is the path followed by Darran Markham and wife April as they led the Fellowship Riders of the Hill Country ministry. In seeking the Lord's direction, they have now relocated that ministry to Boerne, Texas and the Kendall County Cowboy Church.
To welcome this new ministry, and to introduce it to the membership, Darran presented Pastor Steve Gross, also a "rider of motorcycles" and rider of the equine variety, with his own Fellowship Riders vest.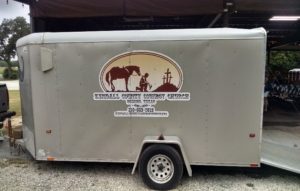 It is with our prayers that we affirm this new ministry as our newest affiliate in the Great State of Texas and look forward to what the Lord has in mind for this ministry as they will be blending in some "iron horses" with their roping horses – all for the Glory of our Lord Jesus Christ.
---
Rigena Christian Church, Kissii, Kenya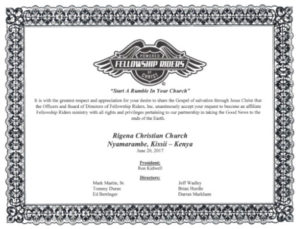 As the weeks have passed since the official welcoming of Rigena Christian Church into the Fellowship Riders family, there have been a number of email communications as well as the gathering of materials and start-up items to be shipped to our most distant ministry, Nyamarambe, Kisii, Kenya.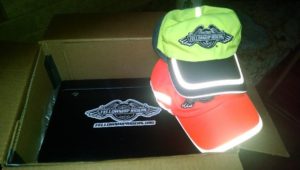 This package; filled with many prayers, our Riders Tool Kit, and everything from bike flags to decals; is now in transit and was last tracked aboard a plane bound for Kenya.
It is our hope that, like the reflective trim around these caps, the Shekinah glory of Almighty God will break forth when that package is opened, that the spirit of brotherhood and encouragement overflow that carton, and that every item strengthen and enlarge the Kingdom of the Most High God in Christ Jesus.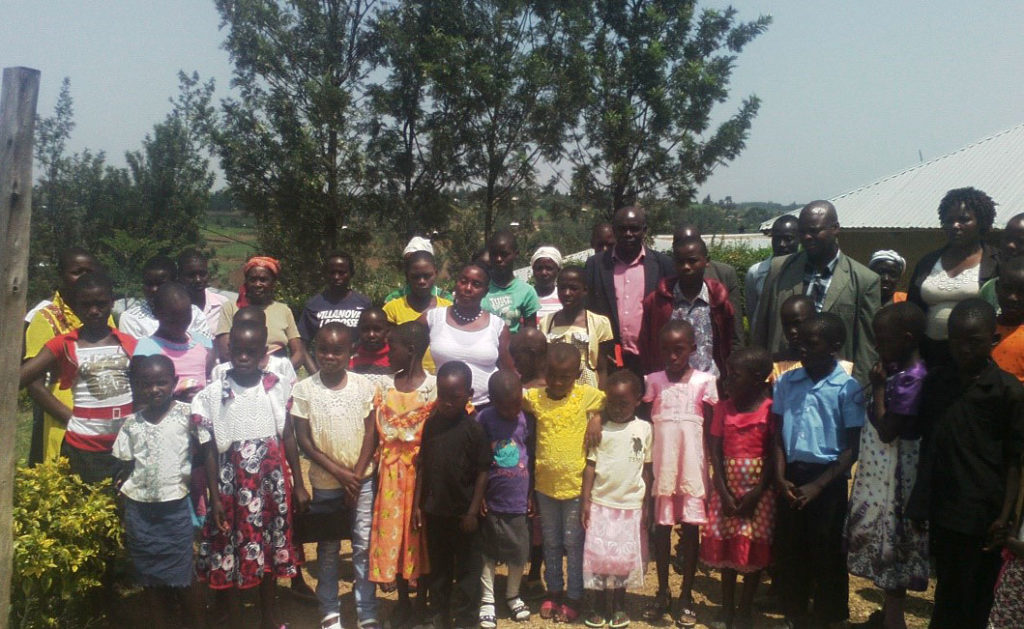 ---
New Affiliate – Rigena Christian Church, Kissii, Kenya
A few weeks ago, I received an email from a church in Kenya who wished to become an affiliate of Fellowship Riders. Having received emails from Africa and other nations requesting financial or other assistance, I was skeptical and a little reluctant to respond; fully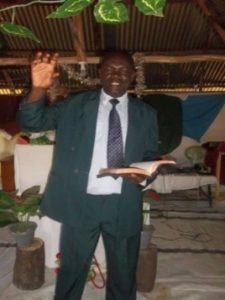 expecting the usual motivation for contacting Fellowship Riders.
In reading that first email there was no request for money, just a simple message asking if they could partner with Fellowship Riders in starting a motorcycle ministry. With a measure of caution, I asked more about the church and questioned whether our materials provided to our ministries in the U.S. would be of value in their culture and language. The reply I got from Pastor Jared Omweri was that they are a small church in Kenya with only 38 members and no motorcycles, but they wanted to establish a relationship with us and together to take the Gospel to the ends of the Earth.
Now how could we not immediately shout praises to Almighty God for His connecting our hearts as Brothers and Sisters in Christ Jesus, for we are of the same Baptism and same Spirit!!!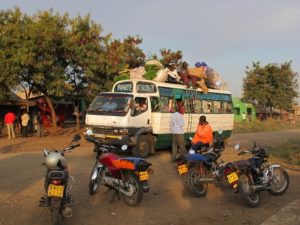 As we continued to exchange emails and to share the heart of the Father, the Board of Directors of Fellowship Riders unanimously approved Rigena Christian Church as an honorary affiliate with all rights and privileges afforded our ministries.
In working with other ministries outside the U.S., there can be a concern for the safety of individuals or churches and it is with the permission and agreement of Pastor Jared that this information is being shared. Please know that even now, Satan desires to destroy all the works of the Kingdom of God and we need to pray diligently for these and Christians everywhere.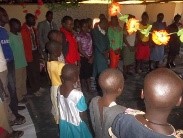 We are now gathering a "Starter Kit" of our Riders Tool Kit, patches, decals, flags, and other Fellowship Riders materials to be sent to our newest affiliate as they join with all the other Fellowship Riders affiliates in going into our communities "Powered by Christ".
Please join with the leadership of Fellowship Riders in welcoming our newest affiliate, Rigena Christian Church, in Kissii, Kenya as they begin the work of following the Lord's call to start a motorcycle ministry and "take the Gospel to the ends of the Earth."
---


Ron Kidwell, President of Fellowship Riders, along with the Board of Directors, would like to welcome Fellowship Riders of Alamance County at Trailhead Church in Graham, NC to the family of Fellowship Riders ministries.
Brian Hurdle, the director of this new ministry, and I had been seeking the Lord for a year; asking where He would open the door for a motorcycle ministry; and it is in the Lord's perfect time and place that He has opened that door at Trailhead Church.
As Brian and I were talking immediately after the church leadership had approved and blessed this new ministry, the Lord said "Just as I commanded a Sabbath rest for the land, the land has rested and now it is time to plant for the harvest."
So with that Word, we welcome Fellowship Riders of Alamance County and Trailhead Church – Powered by Christ – "to seek and to save that which was lost."
---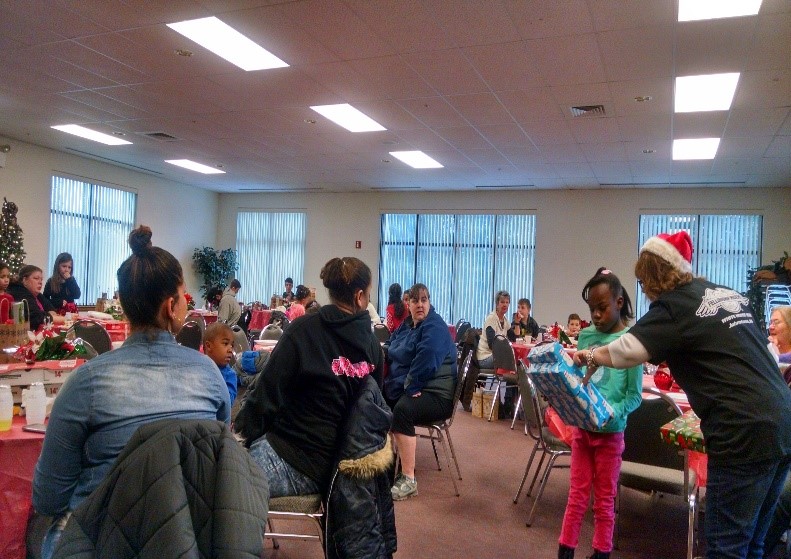 Hi Ron, I just wanted to share with you and all our brothers and sisters affiliated with Fellowship Riders what a blessing Angel Tree 2016 was for all of us here at White Horse M/M. This was our first year participating in the program and we were not sure what to expect. Needless to say our group was blessed beyond measure.
With the help of our church, the Greater Johnstown Christian Fellowship, we were privileged to bless over 40 families and 100 children. I cannot help but to think of Olivia, her picture is attached to this email, when she opened her gift and saw the Barbie doll her face lite up and as she hugged the present she stated; "My daddy knew just what I wanted". Priceless!!! Continue reading →

---
"a child shall lead them…" – Fellowship Riders of the Hill Country
I have been making Angel Tree deliveries for several years and it never ceases to amaze me the blessings that the delivery teams receive. Once again this year, we began our journey to deliver to the children of incarcerated parents in cold damp weather and, in keeping with the Fellowship Riders tradition, we feel that this must be done on the back of our motorcycles if at all possible.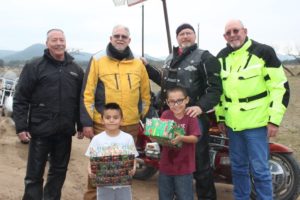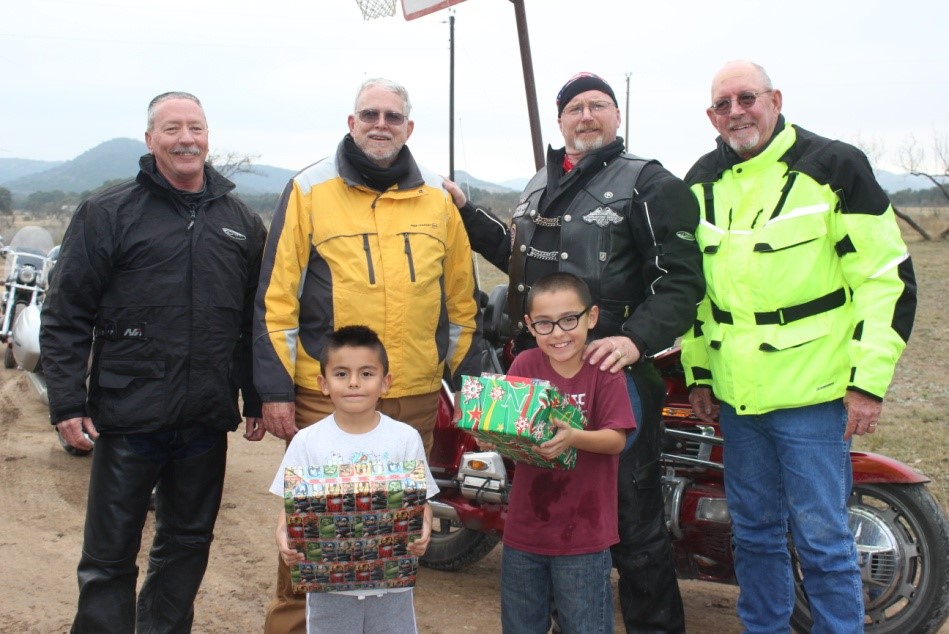 The weeks leading up to the delivery of the gifts are spent calling the recipients care-givers and learning of the family and children's needs. One particular call caught my attention; I spoke with a grandmother about her grandchildren and she began to tell me of the difficulties the family was going through. She was travelling back and forth to San Antonio for medical treatments and struggling to get the children; Realea (3), Christian (7), and Julian (10); anything for Christmas. The two younger children's requests were what most would expect, but Julian's was something special. I learned Julian loved to read religious books and wants to be a pastor someday. He cannot get enough to read and his Bible was worn and needed to be replaced. This delivery was going to be special; I could tell it already and grew more anxious each day. Continue reading →

---
Youth World Shoe Ride 2016
Once again, all the ingredients were in place for a blessed and fun time of providing new back-to-school shoes for the at-risk children who have the God-ordained guidance of Youth World to "Find your place in the World".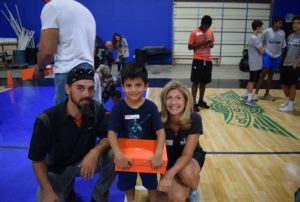 Impacting the surrounding community for Christ, Youth World; through its Summer Camps with more than 400 students in attendance, After-School programs, Summer reading program, and a wide range of other activities; has served over 100,000 lunches, furnished 3,911 pairs of shoes, and children have read more than 33,526 books.
As always, everyone participating returned home with more than they brought – the memories of again being the Lord's hands and feet and sharing the smiles and laughter of these children, especially when playing "Birdie on a perch".
Scheduled for the first weekend of August each year, we look ahead to the Youth World Shoe Ride for 2017 and invite everyone, whether local to DFW or not, to support this event by sponsoring one or more children with new shoes for the upcoming school year.
---
Fellowship Riders-Lubbock, TX – "That's How We Roll"
T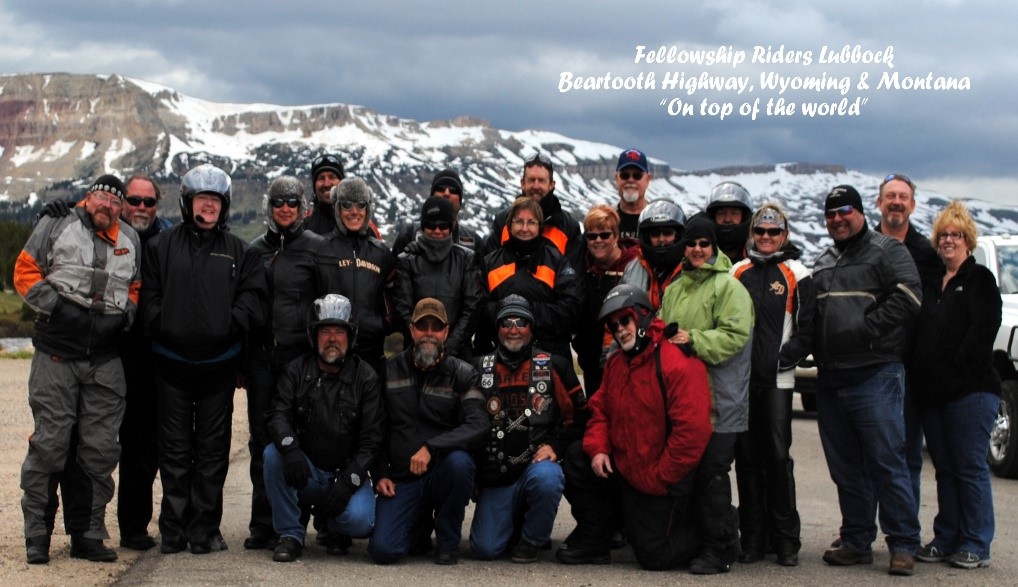 o enjoy the fellowship and joy of traveling together, Fellowship Riders-Lubbock takes several trips each year in addition to many activities in their community.
On June 8-13 this group of 25 rode over 2,600 miles through Wyoming and Montana while sharing devotionals, divine appointments with those they met along the way, and prayer. On day three, a couple went down and were injured; however, what the enemy meant for harm became an opportunity for God to show up and show off His sovereignty over all things. During the 1st few minutes of the crash, the Lord brought a Trauma Doctor, 2 nurses, and many prayer warriors to the scene. An hour later emergency services arrived to airlift one rider and transport the other to a hospital 1 hour away where he was treated and released. A state trooper commented that this was the calmest crash scene he had ever responded to and the brother of the injured rider explained it was the presence of the Lord. Within a few hours the Lord revealed that the riders would be restored and gave peace to continue the ride. Funds to cover hotel, food, and airfare to return the riders to their home in California were provided by riders and others who learned of their need. Read more…