1st Kenyan Fellowship Riders Leadership Conference
1st Kenyan Fellowship Riders Leadership Conference – Nakuru, Kenya: Psalm 90:17 Let the favor of the Lord our God be upon us, and establish the work of our hands upon us; yes, establish the work of our hands!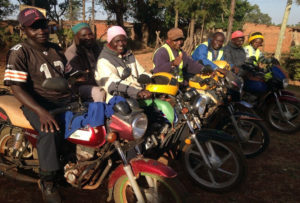 The Lord has brought our 4th ministry in Bungoma County and, together with the priceless assistance of Pastor Michael Kisabuli Masambu in less than a week, organized the 1st Kenyan Fellowship Riders Leadership Conference.
Pastors and leaders of our 4 ministries to the Boda Boda convened Monday morning, Feb. 12 at 7:30AM after those from Bungoma had departed at 12:00AM that morning, others from Nyamira and Kisii at 2:30AM, Pastor Michael from Kimilli, and the host ministry in Nakuru had arrived at the hotel. With a full day of fellowship, teaching, prayer, and planning, the day filled with the Spirit of the Living God concluded around 9PM.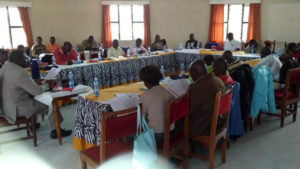 Led by Pastor Michael, these 28 leaders reviewed the God-breathed vision leading to the founding of Fellowship Riders, Code of Conduct, evangelism methods, developed organization and planning goals, and heard from the Scripture concerning their living a life that honors Jesus as Lord, separating themselves from the culture of lawlessness and darkness around them, reflecting the Light of Jesus at all times.
The Boda Boda do not have a good reputation, are often very poor, have sometimes organized into gangs dealing in drugs and prostitution, are increasingly engaged in political violence, and have in some ways become "lepers" to the community. But it is these whom the Lord has chosen to do "a new thing". Because of their movement throughout wide areas, they are "clay in the Potter's hand" to be made into a vehicle for the spread of the Good News of salvation through all the land.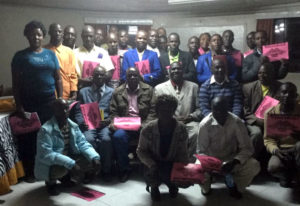 In teaching these leaders to live "worthy of the cause of Christ", Pastor Michael shared this message, which we believe to be a Prophetic word from the heart of God, "The word has gone out that the Boda Boda are bringing the Gospel."
To bring this vision to reality, Fellowship Riders has begun a Facebook fund-raising campaign. As the leaders laid out a six-month plan for their ministries, one common need came forward; the need for PA systems to conduct crusades for large numbers of people. To illustrate this need, this picture was from a Bible Study in Kisii on January 20 where nearly the entire community came out to hear the Gospel. As Pastor Michael has told me and as I have discovered for myself when we have talked by phone, "These are very noisy places" and a PA system will allow everyone to hear the message of Salvation.
Each pastor brought testimonies of the move of God among the Boda Boda and the changing atmosphere in their communities where the Gospel of repentance and salvation has been preached. Pastor Davis at Gesonso Christian Church in Nyamira shared this testimony with us:
"Today's Bible Study was so great and miraculous. Indeed I have seen God's hand in our midst. Today three people were saved. Since we started our Bible Study and Riders Rally through your guidance and support, many people have changed; both from our riders and people of our society, especially those that we have reached with the word of God. The testimonies that our riders and people in our community testify that they have changed people in a great deal from darkness to God's way of living. Most riders and people had been having family disorders, no love, no peace, no joy but today they are having love, peace and joy in their families. Most riders and those that we have reached had been drug addicted but today they are the very people teaching others about the badness and bad habits when involving in drugs. They have been totally delivered from drugs through the word of God. Some were sexually addicted. They had been raping and some beaten badly because of the action but today they are free from sexual addiction. They are satisfied with their marriage partners. Now families are doing very well, riders are doing very well and even community people are doing very well, though we have not yet reached all of them. Hope as we keep on, we shall meet all with the powerful word of God. We are daily and constantly praying for you, ministry board and all members and also we are praying for the soon coming Riders Rally. May the Lord touch many hearts to provide for the ministry."
There is nothing more to say except – your donations to support these pastors halfway around the world are truly a partnership in building on the foundation of Christ in Kenya. 1 Corinthians 3:11-14 For no one can lay a foundation other than the one already laid, which is Jesus Christ. If anyone builds on this foundation using gold, silver, precious stones, wood, hay, or straw, his workmanship will be evident, because the Day will bring it to light. It will be revealed with fire, and the fire will prove the quality of each man's work. If what he has built survives, he will receive a reward.