2012 Founder's Day – Summit Meeting
Journey to the Llano Estacado
As advertised, the journey to the Spirit Ranch in Lubbock, TX was a time of fellowship and fun with terrific weather and an exercise in "nuclear physicular science" as we attempted to get into the Guinness Book of World Records with flying Brassica Oleracea. Due to the rigid requirements for a World Record and the sloping landing zone, our efforts did not result in a record; however; that dream has not died.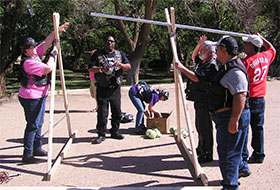 Oh, for those of you not present or who are not familiar with the species Brassica Oleracea, we're talking cabbage here folks. We divided up into 10 teams who – without prior notification of what or how – were furnished lumber, rope, pipes, and; of course; duct tape to construct catapults to launch cabbages at a target positioned at known distances from the launching point.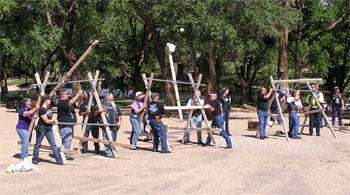 Each team was given points based on closest to the target with the top five teams advancing to a "Shoot-out" for the Championship. The top 3 teams were awarded with solid gold trophies (well, gold foil over plastic) as proof of their skill as engineers and cabbage-chunkers.
The peacocks at Spirit Ranch enjoyed the cabbage almost as much as we enjoyed watching it fly and land with a "splat".
Our thanks and appreciation go out to our hosts, Fellowship Riders of Lubbock and the staff of Spirit Ranch, for a special day of sharing and enjoying the companionship of other Fellowship Riders.
Watch for details of the 2013 Founder's Day/Summit Meeting to be held April 27-28 in Burlington, NC.