Keeping it Simple
"Keeping it Simple" Homeward Calling Ministry Charles Town, WV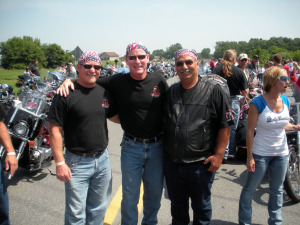 Good friends, open roads, a beautiful sunny day and the joyof serving Jesus Christ while riding a motorcycle…does it get any better than this, short of heaven?
What a blessed year Homeward Calling Ministry (HWC) has had!  We are a Home Church Ministry located in Charles Town, WV.  The first thing you might ask is, "what is a home church and what is it all about."  Here is a basic explanation.
HWC follows a "simple or "home church design.  We believe this to be in accordance with the New Testament in that it is a group of believers in Christ worshiping in a setting that is not encumbered by structure, buildings, or salaries.  Rather, its primary focus is to serve Christ and meeting the needs of the individuals involved.  This design is purposefully used in accordance with Scripture and affords the group the ability to meet wherever people choose to gather; in homes, workplaces, businesses, outside, etc.  HWC believes and intends to bring the"church wherever it gathers and wherever it goes.  Multiplication of this ministry is seen as a calling from the Holy Spirit and is expected. It has been and will be the aim of HWC to spread the good news of Jesus Christ, the only assurance of eternal salvation.  With God's leading, we will minister to individuals in need of financial and spiritual assistance.  Membership in the traditional understanding of the word will not occur at HWC through classes or pledge.  One must freely and willingly accept the Lord Jesus Christ as Savior and be baptized in fulfillment of Scripture to be recognized as a "member of Christ's family. No further scriptural requirement is recognized by this body and we invite all to attend our gatherings.  We follow only the Bible, God's inspired Word, for teaching, worship, and life instruction.  Christ is our "Pastor and"Shepherd, and we are His servants. Won't you come and join us?!
Let us now tell you about some of the things that "get our motors running!  We are so very excited about the ministry opportunities that God is bringing before us!  We were able to participate as a group in support of Angel Tree during past Christmas seasons as well as care and provide for families in our area.  What a blessing it was to bring the Gospel message to the families of inmates and to sit, pray and give thanks with them.  We live in a world that is hurting and longing for answers and we are convinced that the truth and reality of Jesus Christ is the only Way for real joy and happiness in this life and the life to come.  We were able to minister to several families and with God's leading will continue to reach out to them throughout the year.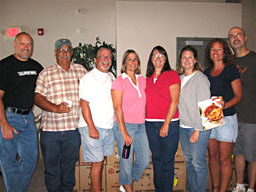 Homeward Calling Ministry and its local Chapter of Homeward Messengers have an ongoing ministry of outreach and encouragement to the local area and beyond.  This ministry focuses on sharing the Gospel of Jesus Christ with all that will listen, often time going into local,traditional church gatherings and offering a message of encouragement, hope,and everlasting life through Jesus Christ. During the worship service, the ministry of Fellowship Riders is always shared, with an invite to all to come and ride with us and share the Gospel on the open road.  HWC and the Messenger Group also provide nutritious food items to those who are in need in our local area.  Through a simple church' design,God has allowed HWC to bless a local County-Wide food shelf abundantly with nutritious food items.  The outreach to the participating families has been wonderful and Christ continues to bless. 
On a final note, HWC's Messenger Group is now waiting for abit warmer, drier weather so that its members can take to the highways and byways of WV and the surrounding area sharing the love of Christ with all that will listen. This is such an exciting ministry and one that is free to travel whenever and wherever it is led to go. The opportunities are endless and we pray each day for Christ to bring opportunity for HWC members to share His love and hope.
A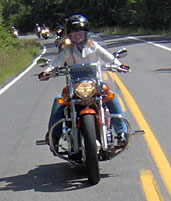 gain I ask, "Won't you join us?"
Blessings to you all,
John Allen
Lead Elder,
Homeward Calling Ministry
Eddie Householder
President,
Homeward Messengers FRG
Visit, follow, or join us @ www.hwcministry.com