"a child shall lead them…" – Fellowship Riders of the Hill Country
"a child shall lead them…" – Fellowship Riders of the Hill Country
I have been making Angel Tree deliveries for several years and it never ceases to amaze me the blessings that the delivery teams receive. Once again this year, we began our journey to deliver to the children of incarcerated parents in cold damp weather and, in keeping with the Fellowship Riders tradition, we feel that this must be done on the back of our motorcycles if at all possible.
The weeks leading up to the delivery of the gifts are spent calling the recipients care-givers and learning of the family and children's needs. One particular call caught my attention; I spoke with a grandmother about her grandchildren and she began to tell me of the difficulties the family was going through. She was travelling back and forth to San Antonio for medical treatments and struggling to get the children; Realea (3), Christian (7), and Julian (10); anything for Christmas. The two younger children's requests were what most would expect, but Julian's was something special. I learned Julian loved to read religious books and wants to be a pastor someday. He cannot get enough to read and his Bible was worn and needed to be replaced. This delivery was going to be special; I could tell it already and grew more anxious each day.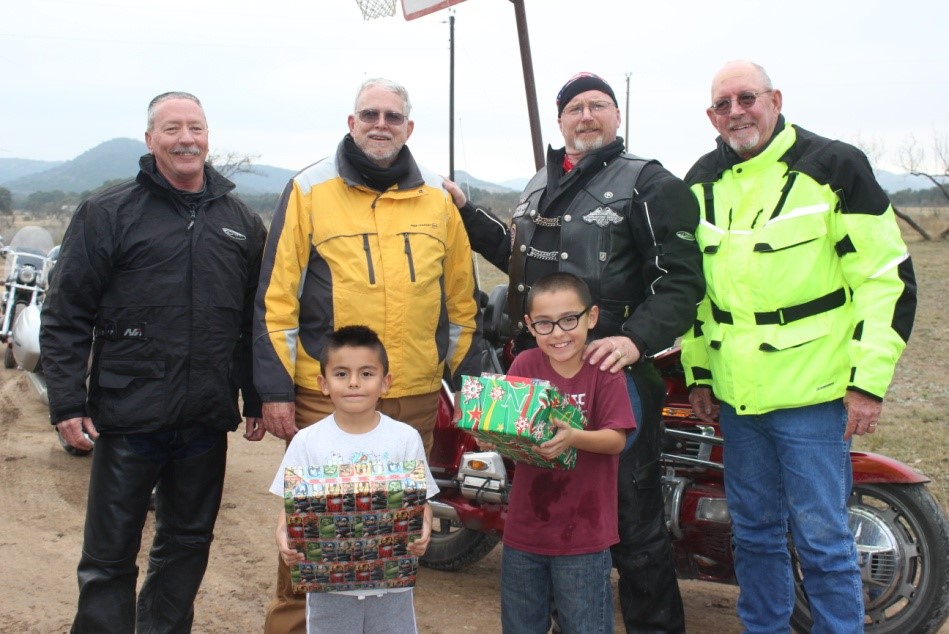 After gathering all the gift requests from the many children in the area we would be serving, the Angel Tree tags were made available at church and at my work so people could provide the gifts. At work, a young man named Martin came in and asked to take a look at the names and wanted to buy for one child. When he saw that Julian wanted a Bible, he got very excited and expressed that he wanted to buy Julian a new Bible. I was reluctant at first but he explained to me that a child wanting a Bible excited him as much as it did me. After a few days, Martin stopped in to ask if he should get Julian's name embossed on the Bible and I told him I thought that would be an awesome touch, which he did.
Due to the number of children and the area we were serving throughout the Texas Hill Country, the deliveries would require two days; one Saturday for the immediate surrounding area and the following Saturday for the outlying communities. Weather and deliveries for the first Saturday went very well, but for the second Saturday with the longer distances, the weather was cold and damp. Logistically, the stop at Julian's house was to be the last of the day as well as for the year, and I think that God planned it that way.
We travelled all day in a fine mist in near 50 degree temperatures on our bikes. We had several amazing stops and met some very special children and families, often leaving in tears. We were behind schedule due to weather, muddy roads, and some families that were harder to find then we had hoped. Soon it was time to head to Leakey and Camp Wood, nearly 100 miles from where we were, and I asked the team how they felt about continuing on the bikes in the inclement weather. Unanimously, they all replied we must continue on the bikes. Oh, how I love their dedication.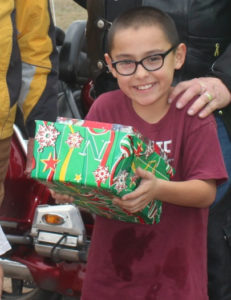 When we arrived at Julian's grandmother's home, I found myself a little disappointed that Julian was going to save his gift and not open it while we were there. I told Julian how excited Martin was to be the one to provide him his gift and how he wanted to know if Julian liked it. With the approval of his grandparents, Julian ran into the house and returned with this gift and unwrapped it. When he saw the gold edged pages of the Bible, you would have thought that we had given him a million Nintendo's. I kneeled down next to him and helped to slide the Bible out of its sleeve to expose the gold letters with his name, and in an excited whisper Julian exclaimed, "It has my name on it!" We were all in tears as we looked at the boy and his new gift. The grandmother began to tell us how each time they go to church Julian would ask the pastor "Where are you reading from today?" so that he could turn his old tattered Bible to the correct page and follow along with the sermon. Just then, Julian ran in to the house and returned with the old worn Bible and handed it to me asking, "Will you take this Bible to Martin so that he can have it and thank him very much for my new one?" Holding back the tears, I took the Bible in amazement and questioned his request, but was quickly reassured that he wanted the Bible to go to Martin.
We hugged, said our "goodbyes", and began our long ride home in the dark through deer country, while what we had just experienced lingered on my mind. I was so overcome by the young boy named Julian and could only wonder how he touched each of our lives that day.
On Monday I gave the special gift to Martin, reciting the story of the very special delivery. I was honored to deliver this last most precious gift, but received an even larger one for myself…as I do every Angel Tree delivery season.
From Darran Markham, Director, Fellowship Riders of the Hill Country, CityWest Church, Ingram, TX.