Kendall County Cowboy Church – Fellowship Riders of the Hill Country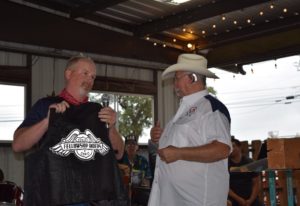 As the Lord leads us along His path, sometimes He calls us to leave where we are and to find where He wants us to put down new roots. We all know from our own life experiences, that some things are for but a season where others are for a lifetime. That is the path followed by Darran Markham and wife April as they led the Fellowship Riders of the Hill Country ministry. In seeking the Lord's direction, they have now relocated that ministry to Boerne, Texas and the Kendall County Cowboy Church.
To welcome this new ministry, and to introduce it to the membership, Darran presented Pastor Steve Gross, also a "rider of motorcycles" and rider of the equine variety, with his own Fellowship Riders vest.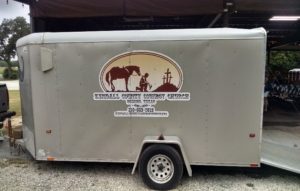 It is with our prayers that we affirm this new ministry as our newest affiliate in the Great State of Texas and look forward to what the Lord has in mind for this ministry as they will be blending in some "iron horses" with their roping horses – all for the Glory of our Lord Jesus Christ.