Rigena Christian Church, Kissii, Kenya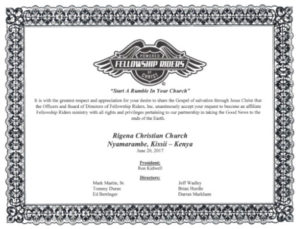 As the weeks have passed since the official welcoming of Rigena Christian Church into the Fellowship Riders family, there have been a number of email communications as well as the gathering of materials and start-up items to be shipped to our most distant ministry, Nyamarambe, Kisii, Kenya.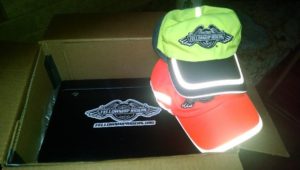 This package; filled with many prayers, our Riders Tool Kit, and everything from bike flags to decals; is now in transit and was last tracked aboard a plane bound for Kenya.
It is our hope that, like the reflective trim around these caps, the Shekinah glory of Almighty God will break forth when that package is opened, that the spirit of brotherhood and encouragement overflow that carton, and that every item strengthen and enlarge the Kingdom of the Most High God in Christ Jesus.