White Horse M/M Roll-Out Weekend
What a special and exciting time it was over the weekend of August 22-23, 2015 as White Horse M/M, our newest affiliate of Greater Johnstown Christian Fellowship, introduced their ministry to the church body during 3 worship services.  The Holy Spirit was present and confirmed His calling on Ed Berringer and his wonderful wife, Sue, as the congregation joined in supporting and the commissioning of this amazing couple.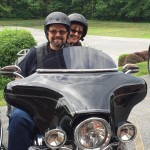 Seven years ago, Ed was involved in a serious motorcycle accident when stopped at a traffic light and hit by a motorist from behind at approximately 40 mph.  Paralyzed, Ed went through all the struggles of a painful recovery, complete life change, stress on marriage and family – a true test of God's faithfulness and victory over Satan's attempt to destroy his life.  Aided by a fellow church member who contributed toward the cost of equipping a motorcycle with hand controls, Ed mounts his bike, stows his wheelchair in a sidecar, waits as Sue climbs aboard, and off they go to serve their Lord and King, Jesus Messiah.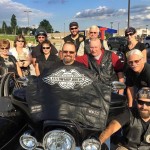 Please join all of us at Fellowship Riders in praying for this new work of the Lord and for these who have answered His call to ministry.  If you are in the neighborhood, that would be anywhere within 1,400 miles or so of Johnstown, stop in and share the fellowship and friendship of White Horse Motorcycle Ministry found at Greater Johnstown Christian Fellowship.  What Satan meant for evil, God meant for good.